Replacing the Light Bulbs of Electric Fireplaces [Full Guide]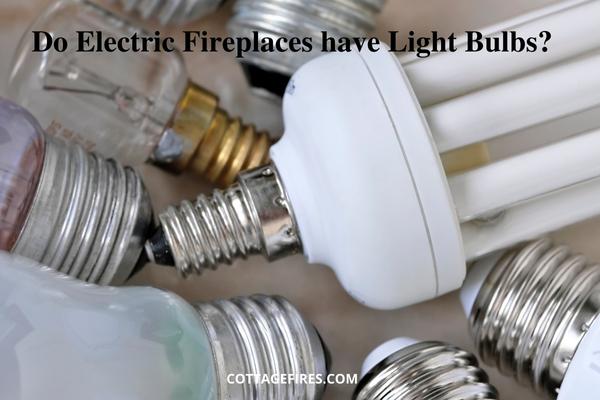 Electric fireplaces are attractive and pretty in themselves.
But you know what adds to their realism? It's the light bulb that electric fireplaces have!
Let's look deeper at the questions one can have regarding bulbs in an electric fireplace.
Do Electric Fireplaces have Light Bulbs?
As electric fireplaces do not produce actual flames, they need a way by which their flame effect seems real and gives off the heat, then produced!
Therefore, they have LED screens that are used by electric fireplaces that help you see the image of flame that attracts the eye.
Halogen bulbs also give off flame effects in a regular and specific pattern that continuously imitates flames.
Remember – LEDs do not produce heat; other components of electric fireplaces do that!
How does the light in Electric fireplaces works?
Light from the light bulb of your electric fireplace bounces from the rotisserie-style silver refractor with 3D patterns to give off an illusion of real flames.
Did you know? In some electric fireplaces, there is also a feature that enables you to hear the crackling voice from the flames to take you close to the whole realism of fire.
How to Replace the Light Bulbs of Electric Fireplaces?
Don't worry; replacing your electric fireplace's light bulbs is easy and simple. All you need to do is replace the old ones with a screwdriver and new bulbs!
Normally Electric Fireplaces uses 40 watt clear, chandelier or candelabra E-12 light bulbs.
Here's a best bulb replacement for standard electric fireplaces.
Now, let's see the steps which will make the whole process a no-brainer. They are –
Turn off your electric fireplace and unplug it as well. After this, let the bulbs cool down; after 10-15, they will be ready to be taken down.
Locate the Rear Access Panel at the back of your electric insert. Take help from your manual to loosen this panel and know which light bulbs suit your model.
Remember – Some models have a panel on the front side of your electric fireplace.
Now, simply locate and replace bulbs that have gone bad with brand-new ones. After opening the door, rotate the old bulbs in a counterclockwise direction and use a cloth to remove them at all times.
Install the new bulb by rotating it clockwise, and tada! Your electric fireplace is now loaded with a brand-new light bulb.
Tighten the screws of the rear access panel door and close it after securing it properly.

Finally, plug your electric fireplace into the outlet and turn on the flame effect. Your flames will be back to their dance and shimmer like they were on the first day of your electric fireplace.
How long do light bulbs in electric fireplaces last?
Light bulbs are prone to get damaged more often. It is recommended that you replace the light bulbs of your electric fireplace every two years to make your flames stay as bright as they were while helping your electric fireplace last longer than traditional ones.
How long do LED lights in Electric Fireplace last?
While the incandescent light bulbs have been built in such a way that they will last up to 1,000 hours maximum, the highest quality LED lights, which have been tested and have proved to last the longest, will last as long as 1,00,000 hours!
Yes, in short, LED lights span 20 years of life before they need to be changed or replaced.
Conclusion
Electric fireplaces do require bulbs to enhance your experience of having them in the first place.
They not only light up the flames but are effective, energy efficient, and even last for super long periods.
Bulbs are the life of an electric fireplace!