10 Most Realistic Electric Fireplaces for 2023 [Tested]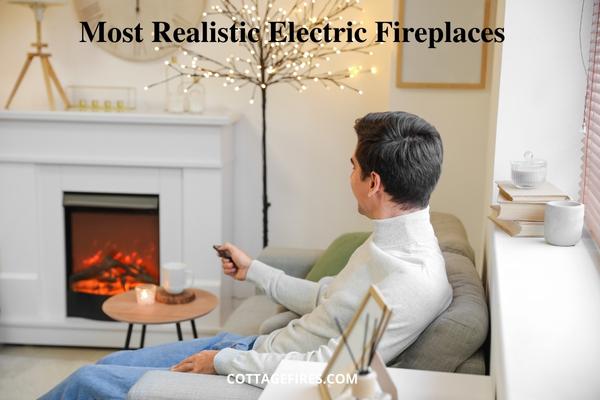 Electric fireplace's continuous improvements in technology and innovation are beyond regularity, but did you know that they now also use water vapor technology to depict utmost realism?
Some companies that make the most realistic electric fireplaces in the US market are Dimplex, Amantii, Modern Flames, Touchstone. Their realistic features and flames are key highlights that make them stand out. 
Nowadays, water vapor fireplaces are the most realistic electric fireplaces in the market as they produce a 3D flame effect that looks absolutely real but safe. This fake realistic flames are created by water mist and led lights. Trust me they look so real!
In this article, I have made a list of 10 electric fireplaces that are the newest, most innovative, and realistic.
10 Most Realistic Electric Fireplaces for Winter 2023
This list is made after asking my friends, owners of these fireplaces and on the basis of my experience I have figured the most realistic electric fireplaces of 2023. Also at the end I have mentioned the buying guide for it.
I hope you will find the most realistic electric fireplace for your place.
Key features –
Comes in fireplace w/driftwood log kit color,
Can be wall mounted or installed by built-in method,
Heating coverage of a whopping 1000 sq. ft,
Has dimensions of 60.25 in. W x 15.63 in. H x 5.88 in. D, while weighing 88 pounds,
5118 BTUs output with realistic and adjustable flames.
Dimplex is arguably one of the leading companies when it comes to electric fireplaces, with thousands of satisfied clients every year, so you do not need to rethink when buying a model from this company, and certainly not this one.
This model perfectly fits and compliments your house with its stunning design and sleek shape.
Its Dimplex exclusive XD technology, used for flames, almost makes the fire flames pop out of the screen, being ultra-realistic. This product is suitable for large rooms and is ideally meant to be installed in the living room of your house and increase your home's warmth and beauty.
Not only can you install this piece with ease, but also you have a multi-functional remote control to help you adjust flame colors, flame brightness, and so much more with ease from your sofa. The log kit it comes with is the one thing that makes it stand out from other electric fireplaces in the market.
Feel free to bless yourself with this exotic and aesthetically pleasing treat of a fireplace.
Key features –
Comes in black,
Can be wall-mounted with no difficulty,
Heating coverage of 400-500 sq. ft of area,
Its dimensions are 53.25 in. W x 26.62 in. H x 14.25 in. D with its weight of 141.7 pounds, making it a bit heavy.
Assists you with a remote control.
Amantii is known for bringing to the market innovative and awesome electric fireplaces. They have grown to be the top producers of electric fireplaces because of their ability to relate and produce for buyers' gain.
And this electric fireplace is an incredible product to invest your money in. With 3 sided glass view and the most vibrant flames, this model rises to excellence.
You can benefit from its versatility as you can use it indoors and outdoors while the ability to use it in bathrooms as well. With one click from its user-friendly remote, you can change its flame colors from blue to purple to even violet, orange, and yellow too.
Designed with a combination of being sturdy and easy to install, you are set to enjoy the warmth for many years to come.
You are treating yourself right in all aspects when you go with this one.
Key features –
Comes in black with wood type finish,
Can be installed by built-in technique,
Heats 200 sq. ft of area with 4981 BTUs heat output,
Has dimensions of 40.08 in. W x 9.63 in. H x 11.94 in. D, with its weight being about 68.78 pounds,
It is known for its special flame effects.
Dimplex, one of the leaders in the field, is known to manufacture products that increase their reputation and buyer satisfaction. It's safe to say this model has done them both justice.
Opti-myst Pro 1000 is known for its ability to not only depict realistic flames but also combine them with the crackling sound of a real wood fire.
With no heat emissions, this fireplace is safe to use. Also, you can sleep without worry as this fireplace offers 12 hrs of continuous optimal performance before the need to refill it. This unique and upgraded fireplace works on Water vapor technology. The technology works by filling a small container of water (called a cassette) and placing it in the Dimplex Opti-Myst Pro 100.
It then results in the Dimplex Opti-Myst System producing a fine mist of water vapor which, paired with the light, makes your model emit flames that come very close to a real-looking flame that of traditional fireplaces. It does this by using a transducer placed in the water cassette. It takes no time to fill its reservoir and you can separately purchase a plumbed water kit. 
This enables you the ability to directly connect the unit(s) to a singular water supply, eliminating the need to refill the water reservoir. Even without using the plumbed water kit, fireplaces' reservoirs responsible for generating water vapors will work for up to 8 hours.
You can enhance its visual appearance by buying inner glow logs separately. You can easily operate this fireplace from a distance and operate it with or without heat too.
Besides being easy to use, it is also easy to install and maintain. One factor that makes it more appealing than other models is its pro-box cassette style. Perfect addition to your small rooms.
Treat yourself and your family with elegance and fast heating through this fireplace.  
Key features –
Comes in black,
Can be installed by wall mounting it or by in-wall recessing it,
Heats 400 sq. ft of area,
Weighs around 95.3 pounds with dimensions of 72 in. L × 19.5 in. H × 5 in. D,
Life-like realistic flames.
With great design and features, this Touchstone ValueLine 72″ Wall Recessed model is one of the most realistic electric fireplaces.
My friend told me that this model's multiple (10) flame modes provide so much convenience for the owner to choose a color of their liking and comfort.
The key point in this model is how its realistic flames are set up into the realistic log set and crystals this electric fireplace has. This feature ensures you get an aesthetic and attractive appeal from the fireplace.
The realism its flame gives off is almost comparable to traditional fireplaces without the requirement of venting! How good is that?
It also comes with surprisingly easy step-by-step instructions to make sure two people can team up and install this model in any of the two ways you want without any difficulties.
With remote control to assist you and a warranty of 1 year, this is a great buy!
Key features –
Comes in oak finish,
It is a freestanding electric fireplace,
Heats whopping 1000 sq. ft of area,
Is slightly heavy weighing 191 pounds, with dimensions of 61.02 in. L × 43.9 in. H × 8 in. D,
Flames are as real as traditional fireplaces.
With flame that gives a life-like glow and additional wood logs that glow internally, ensure this model gives off a look closest to realism.
This model has a range of heating the room that goes from 400 sq. ft to a whopping 1000 sq. ft of area.
Remote control to assist you makes it easy to set your comfort settings and enjoy DIMPLEX Realistic Stone-look Electric Fireplace Mantel.
With interior light and flame speed control options and features, this model also allows you to use realistic flames with or without heat.
If you want to provide your room with the prettiest aesthetic alongside the most realistic flames, this is the model you have to go for, undoubtedly!
Key features –
Comes in black,
Can be wall-mounted within a few minutes,
Heats 400 sq. ft of the area perfectly,
Has dimensions of 60 in. W x 17.25 in. H x 8 in. D, while weighing around 110 pounds,
Helps you control the settings via remote and touchscreen both.
Touchstone has been roaring its name in the market by providing brilliant electric fireplaces for decades now. Their goodwill and their ability to please buyers have never seen any downhill.
Now, this product is filled with features that are guaranteed to bring you nothing less than a lot of happiness.
With 2 heat settings (750W & 1500W), you can exercise full control as per your needs of heat. Having a thermometer to help you set the temperature additionally is a bonus, don't you think? You will be surprised to know it has 6 flame colors and 10 media bed color options.
Along with that, you also have 5 media bed settings to choose from, paired with 3 flame speeds. Having a timer of up to 8 hours ensures you sleep without having to worry about any mishaps. This fireplace meets with the latest technology as it enables Wi-Fi and smartphone connections. (Can be turned on/off with Amazon Alexa or Google.)
Set up this huge box of happiness in your living room and be blessed with warmth for a long, long time.
Key features –
Has a tempered glass finish,
Can be installed by wall-mounting it or by in-wall recessing it,
Heats 450 sq. Ft of area,
Weighs 114.8 pounds with dimensions of 82.5 in. L × 20.5 in. H × 8.3 in. D,
Realistic flame effects.
The great flame design provides an aesthetic that makes the room bright and beautiful with its decorative look. Easy-to-follow instructions help you install and set up this fireplace on your own.
LED lights with ultra-high intensity help Mystflame Electric Fireplace Recessed 88 inches model to provide bright, life-like flames.
Due to the 3 flame color and 3 top light color options, you can explore and choose your preference. The remote control is provided so that you have the freedom to exercise its mind-blowing features with ease.
Having faux fire logs and glass crystals that help resemble the burning coal makes you feel like you own a traditional fireplace in an improvised manner.
My friend became a fan of this model due to the dancing flames it has and due to the realism they depict as well.
Also, he made sure I knew the amazing built-in overheat protection this electric fireplace has so that it avoided overheating and had a timer to support you in using it precisely too!
This is the type of model where once you know it, it keeps impressing you on and on and on!
Don't miss out on getting one of these perfect packages!
Key features –
Comes in powder coating finish,
You can install it by plugging it in, wall mounting it or just used as a freestanding electric fireplace,
Heats about 400 sq. ft of area,
Weighs only 46.78 pounds, with dimensions of 35 in. L, 26.9 in. H, 8.8 in. D,
Features that let you adjust the already existing realistic flames.
The first and the most advantageous thing you learn about this model is that its multiple installation options (especially plug-in and freestanding) paired with its low weight make this electric fireplace moveable and enjoyable in any room you want to and at any time as well.
3 flame setting options assist you in adjusting the intensity of flames and the brightness they provide.
In short, this model makes sure you have the most optimum level of flames you can ask for. Having the feature of operating this fireplace with or without heat is a bonus too!
Remote control to assist you and its attractive design to uplift the look of any room are some of its remarkable features.
Remember – PuraFlame Western Electric Fireplace Insert uses 100% energy-saving LED technology.
Key features –
Comes in a glass finish,
Can be used as a freestanding electric fireplace or can be installed by wall mounting it,
Sufficient for heating 400 sq. ft of area,
Weighs around 66.4 pounds with dimensions of 27 in. L × 36 in. H × 8.9 in. D,
Realism depicts flames.
With easy installation and a standard 120V outlet requirement, this model can go into every room and home.
You can set your comfort by adjusting its features on its touch screen front panel while choosing from 5 flame and burning logs color modes as well as 5 flame speeds and even 5 flame brightness levels to ensure you experience the most realistic flames ever!
Features of a 1-8 hour timer alongside remote control to assist your access on R.W.FLAME 36″ Electric Fireplace Insert are great benefits of this Fireplace.
Did you know? You can use this model in two heat settings! Yes, you can enjoy this model in 750W and 1500W.
The LED technology in this model is designed to save energy as well.
Auto-heat kill safety brings in the safety you need, and this model is ETL certified too!
Its great design and superb features make you feel that this is the best Fireplace you will ever buy.
Key features –
Comes in black,
Heating range of 400 sq. ft of area,
Is a freestanding electric fireplace,
Weighs only 18.5 pounds with dimensions of 25.62 in. L × 18.9 in. H × 12.95 in. D,
Provides brighter and more realistic flames.
Dazzling flames that leave no reflections of their shadows are a feature this model provides that truly catches our eye.
You won't find a better electric fireplace that you will enjoy to this extent and that too for 365 days!
Also, the heat of its fan-forced ceramic heater provides the best comfort for small spaces especially.
The hardwood-cast life-size logs help you get the real feeling of fire.
Dimplex RLG25 Revillusion® 25″ Plug-In Log Set comes with remote control and helps the room to get the most realistic Fireplace to look ever!
This is a model you have to keep your eye on!
Realistic Electric Flames Technology Types
Did you know electric fireplaces use different types of technology? A variety of flame styles are produced by three popular types. They are as follows:
Mechanical Flames
You will find this to be the most common option when looking for the most realistic electric fireplaces.
In exchange for the lower price tag, these fireplaces are usually of lower quality.
Since it runs on a motor, you may even hear a constant "whirring". In order to create a flame shape, they spin a cylinder with a reflective surface. A panel behind the logs is used to project these flames.
Typically, LED lights are easily adjustable, so these fireplaces may offer a larger variety of colors than others. In contrast, you might have to give up the brightness, which is more challenging to change in these mechanical flames using electric fireplaces.
Mechanical fireplaces are difficult to replace because of their complicated components. Their durability is not very high, and they often break down over time. The lower cost of a mechanical fireplace should not sway you if you want a fireplace that lasts.
There are a few other options listed below that you may want to consider.
Mist or Steam Flames
Mechanical fireplaces require electricity to run, while mist or steam fireplaces need water to function.
It creates a mist around the area by using a fogger. A unique and beautiful holographic effect is created as the fireplace lights hit the mist. In comparison with mechanical options, this one looks more realistic.
Although they look elegant, they tend to be more expensive than mechanical fireplaces. Also, the mist requires a continuous supply of water. There is no way to create realistic flames if you do not have one.
The maintenance required by this style is also higher than that of other styles. It is possible for water pipes and holes to become clogged. You should also remember that tap water is not allowed. In the long run, the cost of distilled water can become expensive. In order to run it, water must be refilled, which can be quite a troubling and repetitive task.
Finally, the customization options for mist or steam fireplaces are very limited.
Holographic Flames
Modern technology is often used to create holographic flames. Due to their realistic appearance, they are the most popular. In comparison to mechanical fireplaces, these cost significantly less to maintain and last longer.
The flames are projected through a screen, very similar to how a TV works. This makes them seem even more realistic since they appear on real logs. You can also very easily change the color, brightness, and flicker speed of these flames due to the way they work.
To create embers that look realistic, LED lights are installed on the fireplace's bed.
An audio system is usually paired with these fireplaces.
On the other hand, holographic flames are the most expensive. Holographic fireplaces are an ideal way to make a room truly stunning and aesthetic if you want something truly unique.
With these models, you will be able to take advantage of many more features. Depending on the advanced feature, Bluetooth compatibility, an app, or other advanced features may be included.
If your budget is not a consideration and you want the most realistic-looking fireplace, then a holographic fireplace is what you need. Your room can be transformed completely by its beautiful and soothing ambiance.
The fireplace can also be customized in a variety of ways to produce a more authentic appearance.
Buying Guide for Most Realistic Electric Fireplaces
Log and Flame Effects
Flame effects and log crystals are the two things that play a key role in decorating and highlighting your electric fireplace.
The option to enjoy your flames with or without heat acts as a bonus feature for you!
Sound Effects
The heaters fan should not at all be noisy, they should be quiet, seamless, etc.
Heaters are almost always audible; they just differ as per the model in volume levels.
The blower can also cause noise effects, and you should think twice before buying a constantly loud fireplace.
Size
Size is a factor that comes into consideration when planning where your newly purchased electric fireplace will be installed.
If it is a freestanding electric fireplace, you will face no issue moving it easily. Still, in the case of wall mounting or wall recessing, you must be careful while choosing the location and dimensions!
Interior Design of Room
Having an electric fireplace that goes with your interior design is what you aim for the most or you are not aiming for it at all!
You either want your electric fireplace to blend in with the installed rooms' aesthetic or become the room's attention and aesthetic.
Some minor changes in interior of your place can make built-in electric fireplace look more real.
The Ambiance will Provide
When buying an electric fireplace, you are sure to get the greatest realism and ambiance with it without question.
Electric fireplaces are known to highlight themselves in any room and provide a touch of luxury with their great designs and features!
They are appealing and increase the room's ambiance by at least 10 times.
Versatility
The versatility of each electric fireplace depends on its own.
Generally, the heat settings, the heating output, and the heating area range contribute to deciding your electric fireplace's versatility.
Whether you can operate it differently or uniquely exercise your electric fireplace depends on what model you buy!
Every model, however, impresses with its versatility.
Settings and Features
Different settings in adjustments of flames, brightness, and colors, the availability of the timer feature, overheating protection, and even remote control assistance are some of the many settings and features the impressive electric fireplaces provide you.
FAQs
Which is most Realistic Electric Flame Technology?
Now, as per recent technology, holographic flames have got to the top when it comes to the reality of flames given off by an electric fireplace.
 
You will find that models which use holographic flames technology are rated as the ones that provide the most authentic experience of a fireplace.
How do I make my Electric Fireplace Flames Brighter?
You can brighten the flames of your electric fireplace in many ways. You can adjust the flame colors or adjust the ember bed lighting or even adjust the flame speed. Adjusting the lighting of the room in which you have installed your electric fireplace also works.
Do Electric Fireplace looks Fake? 
In general, they look fairly real, but the quality depends on the brand. In order to create the most realistic flames on the market, many electric fireplace companies use the latest technology.
Your product's flame type will also play a role in this. Despite their high cost, holographic flames can provide you with a realistic-looking faux flame.
Do Electric Fireplace looks Realistic? 
A real flame cannot be seen in an electric fireplace. Holographic flames, on the other hand, look almost as real and without actually igniting anything.
In short, yes most electric fireplaces aim to be as realistic as possible.
Conclusion
Before you leave…
Make sure you know what type of technology is available and what to look for before you buy an electric fireplace. Choose features over beauty as features will last longer.