How to make an Electric Fireplace look Built-in (More Real)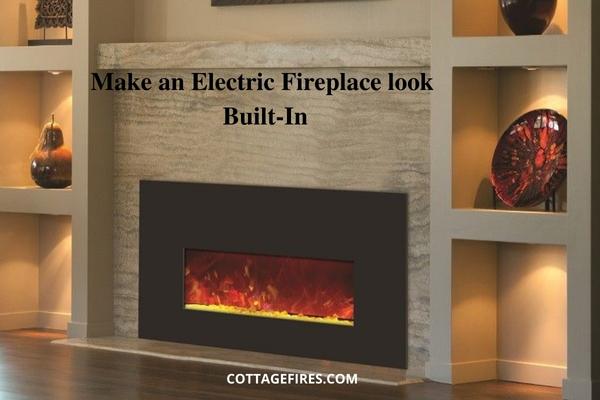 Surely you are happy having purchased your ideal electric fireplace.
Now, after investing in the right way, won't you want your electric fireplace to look more built-in and more real too?
We will help you in this article to do so and make your doubts go away!
Let's dive in!
Deciding the Right Location for your Electric Fireplace
When buying an electric fireplace, the first question that pops into our mind is where to place it! Am I not right?
The biggest advantage of an electric fireplace is it does not require venting, which makes it suitable to be placed anywhere in the room.
First, decide the room you want to install it in.
Depending on which model you have chosen, you can place your electric fireplace in specific locations.
A Fireplace insert can readily be placed into an existing fireplace, whereas if you are shy of floor space, you can go for a wall-mounted electric fireplace.
Remember – Objects and your furniture are to be kept away from the fireplace to ensure that the heater outlet or inlet remains unblocked.
Creating a Fireplace Mantel
Having a fireplace mantel for your electric fireplace will single-handedly provide it with the traditional fireplace look and make you feel the realism of fireplaces.
The mantel will make sure all your guests know that the electric fireplace you have is your most prized possession of yours.
Multiple designs and styling options of mantels make it easy for any electric fireplace to look more decorative and attractive.
Mantels come with protection for wall hangings, TV sets, and also paintings that you have hung above your precious electric fireplace.
A fireplace mantel will ensure that heat damages are prevented even if you use your electric fireplace throughout the year.
Fireplace Mantel is not only an excellent but also a safe and uplifting addition to your fireplace.
Buying an Electric Fireplace Insert
Buying a fireplace insert is a great option, as fireplace inserts can be directly placed into your existing fireplace.
Electric fireplace inserts come in 3 types, making them super adaptive to suit your design(s). Fireplace inserts help to offer freedom in customizing your fireplace to make it look more real.
The built-in electric fireplace insert is a permanent solution, i.e. it is either recessed into the wall or inserted into an existing fireplace. They are not only cost-efficient but also easy to install.
These built-in electric fireplace inserts use fan-forced heat or infrared technology to heat the desired room and are considered one of the safest options.
Next come the plug-in electric fireplace inserts, which comprise media, flame technology, and an encased box.
You can plug them into a standard 120V wall outlet, and they have the option to be inserted into an existing fireplace or a mantel.
Realistic flames with color, speed and intensity adjustment options make it a more aesthetic choice than others.
Plug-in electric fireplace inserts maintain indoor air quality, and they also tend to be clean and effective. Log set inserts are the quickest way to update your existing electric fireplace. 
Composed of only the log set, they only need proper placement in the firebox, and as soon as you plug it in, it's ready to go.
Full logs, embers, fresh cut log look, birch look, etc., are some of the most trending looks log set inserts provide.
You won't compromise on the realism of flames when you choose log set inserts. They can be operated with ease as they come with remote control.
In-wall inserts are the definition of top technology paired with contemporary styling. These in-wall inserts provide a seamless look as they are fully wall-recessed.
Multi-sided & see-through inserts are highlighted by their excellent features, one of them being access to your electric fireplace from multiple sides of the room.
They help declare that an electric fireplace is the center of attention. Superb right?
Mounting TV above the fireplace
A TV set (opt. for a flat screen) over your electric fireplace makes the overall look more aesthetic and appealing.
Ensure the distance, height, and eye level are considered when mounting your TV set above the electric fireplace.
On average, people choose to mount their TV set about 60 to 68 inches above the ground.
Buying a TV set with a connect box would help a lot and easily go with the mounting.
You can also have some cabinets around the wall of your electric fireplace to store and later read your favorite books and other stuff.
When choosing a TV set, ensure the width is not wider than your fireplace as the mismatch of them both will end up giving a fake look rather than a real one.
Correct installation
To have a seamless and perfect design, you must ensure that your electric fireplace is installed correctly.
Make sure no cords are visible, and no wires are left hanging out, indicating a mess.
The dimensions are to be remembered precisely, and in case gaps are present, you can add custom trim or tiles, which will give a flawless look.
You can also consider adding an electric fireplace insert into a cabinet that would need stones around the firebox. This small, elegant addition will ensure your electric fireplace has an authentic look.
Now, you can't ignore the installation instructions that come in the manual of your electric fireplace.
Following those instructions will guarantee enhanced looks of the whole room.
Conclusion
These few simple things are the way to make your electric fireplace look more built-in and real.
The more you consider these 5 things, the more beautiful and real look your electric fireplace will have!