Dimplex Opti-Myst Troubleshooting Problems [Maintenance Guide]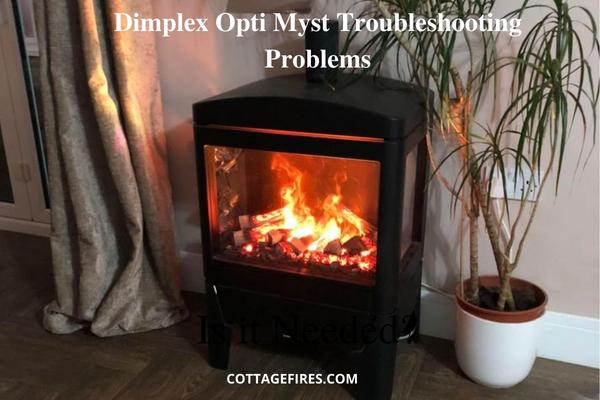 Dimplex is one of the largest manufacturing companies producing electric fireplaces, which has driven electric fireplaces to some great innovations. These fireplaces are considered one of the most realistic electric fireplaces.
Dimplex opti myst changed the way electric fireplaces looked forever.
But after buying this model, did you face water tanks, mist, lights, or transducer issues?
Checking your insert is also necessary, as some models need a recess depth of 75mm, whereas some recent models need a recess depth of over 80mm.
Then here I'm, troubleshooting the Dimplex Opti Myst problems.
How do Dimplex Opti-Myst works?
Dimplex opti myst works so wonderfully that it leaves our minds in awe of it.
It uses the water tank under the fire's integral parts to transform the stored water into the mist!
Next, the bulbs are then illuminated by the converted mist.
The mist is extremely safe for your children, pets and even the elderly, as it remains completely cool to touch.
Opti-Myst Fires Problems
Dimplex opti myst fire has acted as a double-edged sword for most people!
One needs to remember many features, all of which are complex. It means they have an almost equal chance of a feature going right and wrong.
Elderly people become this disadvantaged prey and face the opti myst difficulties.
Below are some Dimplex Opti Myst troubleshooting problems.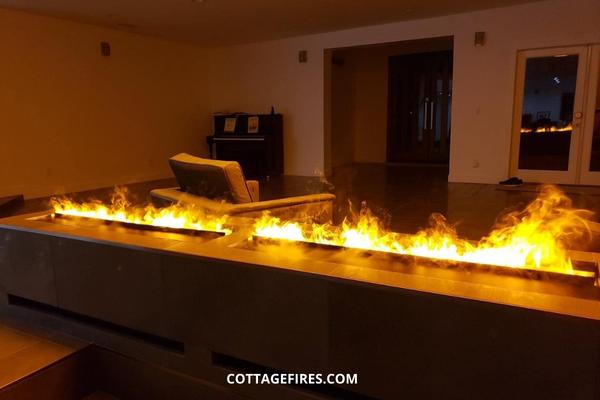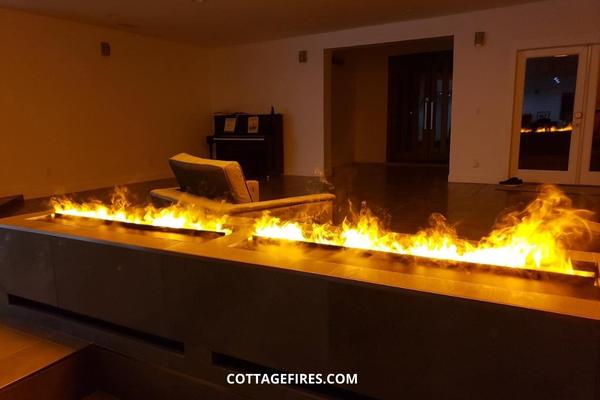 Dimplex Opti-Myst transducer problems
If not cleaned every two weeks, it can show some problems.
Limescale starts forming if tap water is used, which further affects the performance of the smoke and flame effect of the fires.
Remember – Ionised or even distilled water is to be avoided.
How long does the Dimplex transducer last?
18 months is what the life of a Dimplex transducer tends to be.
After that, even if you thoroughly clean the transducer and sump, it has trouble starting up again and requires either replacement or repairs from professionals.
Dimplex Opti-Myst lights not working
If any of the lamps that come with the fire stop working, this issue will occur.
Make sure all the lamps that come with the fire are attached properly.
Verify if the transducer is located in the sump perfectly and also that the sump is plugged in. Check the water in the sump and identify if it's sufficient for the sump to cover the transducer.
If the lamps are not working, they might have failed, and you need to replace them to eliminate this issue.
You can contact Dimplex service to resolve this issue by filling out their service call request.
No Mist is produced when I turn on Opti Myst?
If you face this problem, follow the given below steps that will help you resolve this issue.
They are –
You first have to check that the water tank is filled fully or adequately so that the sump gets filled, which will cover the transducer.
The transducer should be plugged in and inside the sump so that the top of the transducer disc does not get crossed with black lead. The formation of the mist will cease if this happens.
If the above steps don't resolve the issue, then it is clear that the sump fan has failed, and you might have to give a check. If you clean it properly and restart it, it will start by making a sound, and you will feel vibrations as well.
Lastly, see if all 4 lamps are fitted properly and are working smoothly.
If the issue continues after all these steps, contact Dimplex service by filling out their service call request form.
Mist cuts off immediately.
Have a look at the sump and verify if it has sufficient water and that the sump fan can rotate freely.
Make sure that you correctly have your transducer seated in the sump and that the fan filter's position is also correct.
If nothing of the above works, contact Dimplex service by filling out their service request form.
Tip – The newer fires these days come with an adjustable mist output.
Dimplex Water Tank
The water you fill in the tank should always be filtered, tap water brings you problems.
Tap water fills the mist-generating outlet with limescale, hindering it from working as smoothly as it did.
It also becomes super tough to remove all the dirt of the limescale formed by the brush provided to the Dimplex opti myst users.
Whenever its water tank is filled, it is only to be done with filtered water.
They come with a smaller water tank that supports up to only 2 days, even if you run it for 2-4 hours a day.
This is the main reason that causes some severe issues in the Opti Myst fire.
FAQs on Dimplex Opti Myst
How long does water last in Opti Myst Fire?
The water in the opti myst fire has to be filled fully from time to time. If you use your opti-myst at its maximum level, even 500 to 1000 cassettes will not last over 8 hours. 
A continuous water supply is a must to make sure that the fires work effectively.
Can you use tap water in an Opti Myst Fire?
No, you cannot use tap water in an opti myst fire. Using tap water will hinder the performance of the opti-myst and initiate the formation of limescale. 
You will have to put double efforts into cleaning all the dirt formed due to tap water and you will regret using tap water in your opti-myst fire.
Does Opti Myst fire Cause Condensation?
Yes, opti myst fire is prone to condensation.
So, if you plan to have a Dimplex opti-myst at your place and you have a small space then it is not cut out for you.
How do you clean Dimplex Opti Myst Transducer?
Taking care of your Dimplex opti-myst transducer is fairly simple. Follow the below points to make sure it stays clean all the time.
1. Be careful while you remove the transducer from the fire and then let it dry completely.
2. After it is fully dry, clean it with the brush you provided with the fire.
3. Ensure the water is replaced from the tank every 2 weeks.