3 Best Double sided See Through Electric Fireplaces [2022]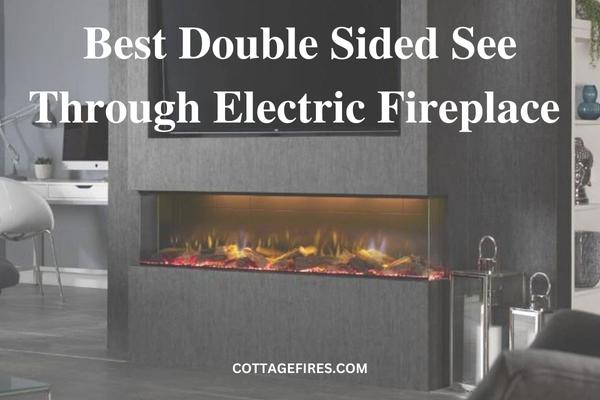 Double-sided, electric fireplaces are the ultimate aesthetic package as they are not only desired by everyone but are pretty exclusive!
It is a huge understatement to say that they are unique!
They are simply so much more than that.
After contacting many groups and forums, I have concluded for the Best Double-sided See through Electric fireplaces.
Top 3 Double Sided See through Electric Fireplace
If you are searching for the best double-sided electric fireplace here, keep checking because the 3 mentioned units are the most beautiful see thorough fireplaces in the market. 
Here We Go!
Key Points –
This model comes in black,
Can heat up to a massive area of 800 sq. ft quickly as well,
Can be hardwired directly and also simply plugged in, using a 120V or 240V outlet,
D×W×H (depth × width × height) is 9×50×18 inches 
Can heat 2 rooms simultaneously, controlled by two separate remotes.
Weighs 101.2 pounds using 2800 watts.
This model can be called the first ever actual see-through electric fireplace!
I ran a survey in a group and found out that most people prefer Napoleon Clearion as 1st choice when it comes to See through electric fireplaces.
Including the above features, it also has easy installation providing great aesthetics to not one but two rooms.
This model comes with a privacy mode feature, which provides you with three different privacy options between the two rooms.
The options are transparent, semi-transparent, and fully opaque, of which transparency creates visibility, the semi-transparent option partially blurs the visibility. The creation of total privacy takes place in the fully-opaque option.
Providing control on brightness adjustment and separate heat controls for each room makes this product's compatibility untouchable!
You can also customize your Napoleon CLEARion See-Through Electric Fireplace looks as if it comes with various media options and flame colors.
This product is not only packed with next-level features but also paired with a beautiful design! 
Key points –
Models come in a black finish,
Heats area of 400 sq. ft as well as 800 sq. ft,
Can be fully, partially recessed or surface mounted, using a 120V outlet or a 240V outlet,
D × W × H is 11.5 × 56 × 25 inches,
Comes with a multi-function remote,
Weighs 220 pounds using either 1500 or 3000 watts.
Surprised to see a see-through fireplace model can be double-sided? This model is an exception to the ordinary ones!
Not only does it have all the above features but it also comes in 4 sizes. Yes, this model comes in 44-inch, 56-inch, 68-inch, and shocking 80-inches. The feature that sets these models apart is they come with 12 configurations for their installment. 
With great intensity in the LED light effects and an aesthetic provided by acrylic stones as clear as they can be alongside black smoke acrylic crystals.
Did you know? – You can not only control these models with a multi-function remote but also with an app that helps you control the models using wifi as a bridge between your comfort and the features of the double-sided see-through fireplace.
Its versatility in various departments truly is a point to note. A glowing ember bed paired with down-lighting is another feature of these models.
Its app connectivity option proves how you can have everything controlled by your fingertips, and these double-sided see-through models are prime examples.
The more you listen to and know about these models, the more you will be in awe of it!
Key points –
This model comes in white or modern black color,
Heats a room or area of 400 sq. ft perfectly, 
This model can be wall-mounted, using a 120V outlet,
D × W × H is 7 × 50 × 20.5 inches
Comes with a well-functioned remote control,
Weighs just 62 pounds and uses 1500 watts.
This model, in addition to the above features, also has many other features which would make you fall in love with it.
To begin with, it has the highest quality in providing realistic flames, is too simple to install, and has no limitations in heat settings.
This model is simply a bonus of aesthetics combined. It is designed and combined (driftwood plus crystal hearth set) with elements that introduce a modern and sleek look to any of your rooms.
Its low and high heating settings are both effective and super quick.
This model is designed to fill you with calmness by making you feel warm on cold evenings and nights, meaning this model is not made to serve the primary purpose of heat in your room(s).
Nevertheless, this model provides 3 changing options for colors (orange, blue, and blue-orange), which come alongside 5 different heat settings to support it, from an ember glow (soft) to an exceptional glaze.
All in all, you can't deny this extraordinary model of the double-side see-through electric fireplace.
Conclusion
See-through models of electric fireplaces bring a new spice to the whole field of fireplaces in general.
Getting any recommended ones above is an addition for you in many aspects.
They bring life and heat to you in a way you have never experienced!
There's no regret; you will get 100% happiness and heat from these models!