5 Best RV Electric Fireplace 2022 [Perfect Fit]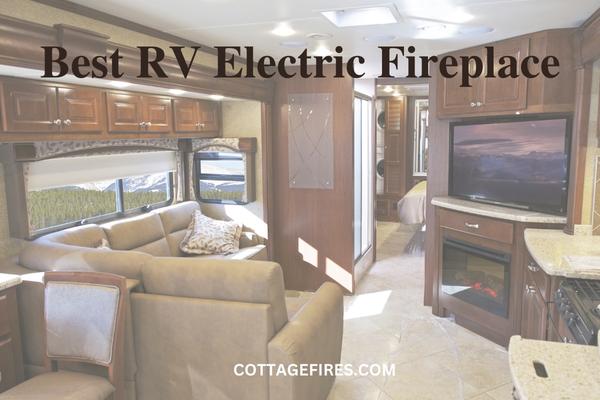 Electric fireplaces are impressive substitutes for heating over all other traditional fireplaces, right?
But their supremacy doesn't stop there! The various types of electric fireplaces will shock you.
Amongst its different types is electric fireplaces, which are best for your RV. Yes! Let's dive into further exciting details of the same.
You will indeed develop an interest in RV electric fireplaces.
List of Best RV Electric Fireplace
After talking to owners of RVs and surfing a lot over forums I got the 5 best RV electric fireplace for you.
Key Points –
Heats up to 400 sq. ft of the area perfectly,
Comes in black
L × W × H is 24.7 × 8.84 × 33 inches,
Can be plugged in using a 120V outlet,
Assists you with remote control,
Weighs 51.7 pounds, with 1500 watts,
Its features do not stop there; this model is also very easy to install, does not test your patience while you are at it, and can be operated with or without heat. This fireplace would look very sober in your RV.
I met an RV owner who has this model installed in his RV. He stated," I prefer electric fireplaces in RV as they don't emit any gases and Valuxhome, RW Flame is what I suggest to other RV owners."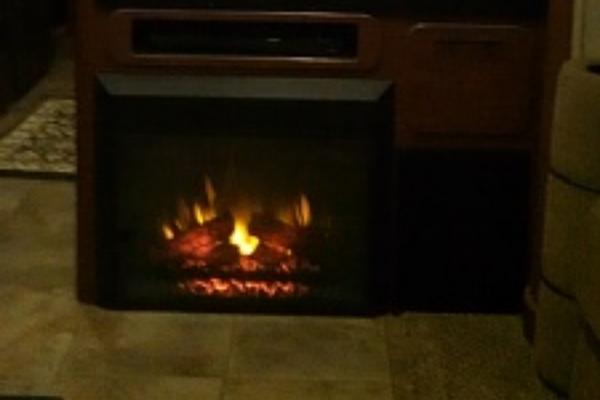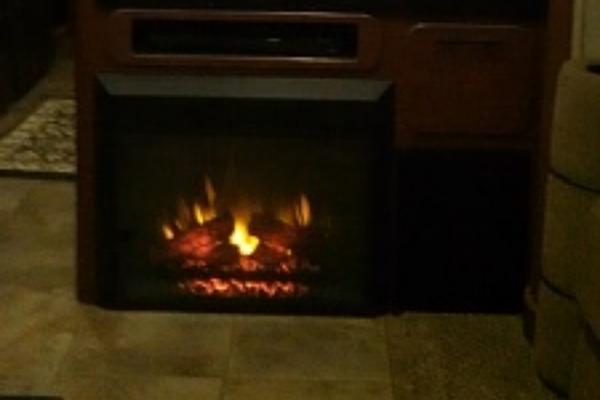 It does not compromise on safety and is an excellent addition to the ambiance of any room it goes to, that too without consuming much space of the room as well.
This model provides brightness adjustment options as per your comfort, has life-like resin logs and an ember bed, and even atmosphere light in 3 Colors.
Indeed the brand has made this model the complete package of awesomeness.
Cause of all these, Valuxhome electric fireplaces come in 1st place on the list.
Key Points –
Heats 400 sq. ft of area,
The model is powder coated,
L × W × H is 7.5 × 33.06 × 7.5 inches
Can be inserted/plugged in, under a 120V outlet,
Provided with remote control,
Weighs 47.6 pounds, with 1500 watts
PuraFlame Klaus is a favorite for many RV owners due to it's unique model having additional features other than the ones mentioned above.
Starting with its easy-to-adjust brightness settings and 3 flame settings used either with or without heat while saving energy 100% by its LED technology makes this model unique.
This model's life-like resin log sitting above its ember bed makes it look like a wood fireplace.
Its design comprises a glass door mesh screen and an interior brick wall. It is free from dust and ashes, requiring minimum checkups.
You can install this model without any hassle, enjoy its heat and appeal in your RV, and enjoy the cozy atmosphere.
Key Points –
Heats 400 sq. ft of area,
Comes with a glass finish,
L × W × H is 6.5 × 23.57 × 27 inches,
Can be plugged in, uses a 120V outlet,
Comes with remote control,
Weighs 42.6 pounds, with 1500 watts
This model with the above features also has a touchscreen control on its front panel! This feature makes this model different from all others.
With burning and flame controls having 3 options each, it also has 5 flame speed modes and 5 brightness levels for adjusting flames. This model simply has too much to offer.
Yet the best feature this model has is its unique automatic design (the color of the flame and the brightness get automatically changed) and its sleep mode.
It saves energy using LED technology while having the option to be operated with or without heat.
Its design makes this model an additional aesthetic to your room and is very strong in turn and completely safe to operate. Also this model is one of the best pick for apartments.
This model comes with features that surprise you and also excite you.
Get your hands on this model today!
Key Points –
Suitable for heating 400 sq. ft of area,
Comes in color black,
L × W × H is 18 × 5 × 18.11 inches,
Can be plugged in, uses a 115V outlet,
Provided with remote control,
Weighs only 16.8 pounds, with 1400 watts.
This model is an enhancer of the aesthetic of your room and is easily portable too.
This model shuts itself off automatically due to its overheating safety protection design. The size of this model makes it the cutest and unique in terms of placement.
It can go anywhere from TV stands to sideboards to your valued bookshelves. It is very easy not only to install this fireplace but also to adjust or reset its heat settings as well.
This model heats the room using infrared quartz, which maintains the humidity of your space while making you cozy and comfortable.
In short, we can say that this model is the handiest of all and works with extreme care and efficiency.
You would not want to lose the option of having such a cute RV electric fireplace, would you?
Key Points –
Heats 500 sq. ft of area,
Is it the black color,
L × W × H is 27.3 × 8.5 × 21.6 inches,
Can be plugged in using a 110-120V outlet,
You are provided with remote control,
Weighs 27 pounds, with 1500 watts.
This is a small and pretty simplistic fireplace for RVs.
In addition to the features mentioned above, this model also provides safety measures, which is its overheating safety cut-off feature.
4 different flame effect settings, 3 heat settings, and many other settings, such as settings in temperature, timer, proximity sensor, etc., are included in this model, which makes it usable in ways you wish.
You don't have to scratch your head to get yourself through its installation and get your room a pleasing aesthetic. Operating and installing this particular model is a piece of cake.
All that remains now is for you to place an order for this model to bless yourself with a great RV electric fireplace.
Conclusion
I hope after reading this, buying an electric fireplace for your RV is easy. Remember, while choosing the best RV electric fireplace, the most important thing to check is the dimensions of the place where it will fit in your RV.
Keep Traveling and Enjoy the Cozy heat of Electric Fireplaces in RVs.