7 Best RV Electric Fireplace 2023 [Perfect Model For Campers]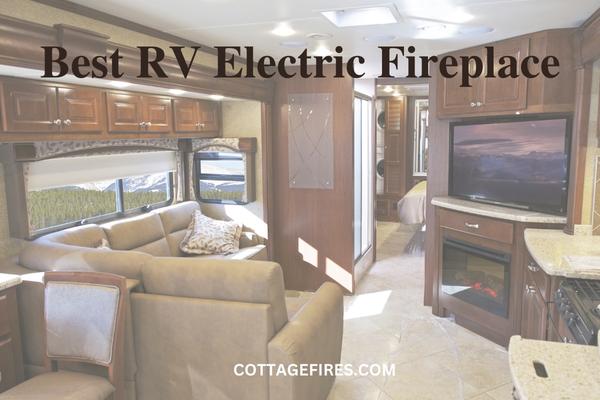 In addition to being popular in homes, electric fireplaces are now finding their way into RVs as well.
Yes, camper loves them in there camper vans.
The question is, which RV electric fireplace is the best for RV owners?
Worry not, I am going to provide you with a detailed review of 7 of the best RV electric fireplaces for 2023, along with detailed information about safety features to check out before buying one, how much area they heat, how much power they consume, and so much more in this article.
Keep reading to find out everything!
Let's begin!
List of Best RV Electric Fireplace
After talking to owners of RVs and surfing a lot over forums I got the 5 best RV electric fireplace for you.
Key Points –
Heats up to 400 sq. ft of the area perfectly,
Comes in black
L × W × H is 24.7 × 8.84 × 33 inches,
Can be plugged in using a 120V outlet,
Assists you with remote control,
Weighs 51.7 pounds, with 1500 watts,
Its features do not stop there; this model is also very easy to install, does not test your patience while you are at it, and can be operated with or without heat. This fireplace would look very sober in your RV.
I met an RV owner who has this model installed in his RV. He stated," I prefer electric fireplaces in RV as they don't emit any gases and Valuxhome, RW Flame is what I suggest to other RV owners."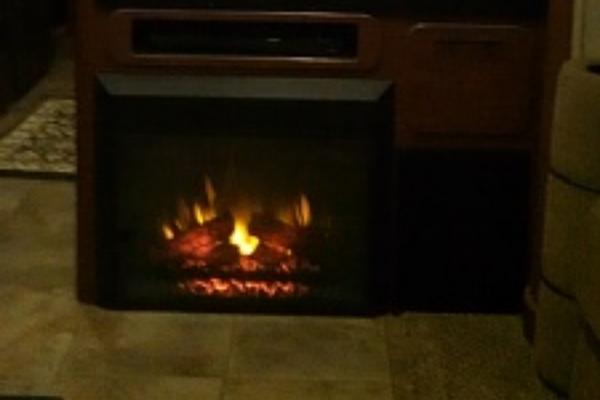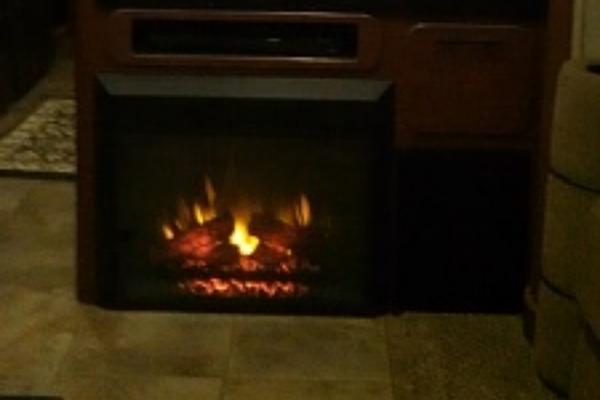 It does not compromise on safety and is an excellent addition to the ambiance of any room it goes to, that too without consuming much space of the room as well.
This model provides brightness adjustment options as per your comfort, has life-like resin logs and an ember bed, and even atmosphere light in 3 Colors.
Indeed the brand has made this model the complete package of awesomeness.
Cause of all these, Valuxhome electric fireplaces come in 1st place on the list.
Key points –
Sufficiently heats a medium-sized room (max. Upto 450 sq. ft),
It comes in a mixture of red and black colors,
D (depth) x W x H is 6 x 10.8 x 13.38 inches,
Heat output of 1200 watts with 3D flame effects,
Overheat protection and easy portability.
This small-sized beast of an electric fireplace has earned its name.
The reason for it becoming many people's choice is how easily portable as well adjustable this electric fireplace is. Also, the reviews about this model highlight how fast it can heat a room whilst having an overheating sensor to ensure protection and safety.
The 3D flame effect offers the most realistic flames to the users while providing the option of using the flames with or without heat. Not only does this fireplace provide great overheating protection, but it also has a cool-to-touch body, taking its safety to another level.
This model is not only easy to install and maintain but is a direct source of increasing aesthetics and warmth in your living room, bedroom, or even in your office as well. Overall, it is a piece you won't have to complain of, ever.
Key Points –
Heats 400 sq. ft of area,
The model is powder coated,
L × W × H is 7.5 × 33.06 × 7.5 inches
Can be inserted/plugged in, under a 120V outlet,
Provided with remote control,
Weighs 47.6 pounds, with 1500 watts
PuraFlame Klaus is a favorite for many RV owners due to it's unique model having additional features other than the ones mentioned above.
Starting with its easy-to-adjust brightness settings and 3 flame settings used either with or without heat while saving energy 100% by its LED technology makes this model unique.
This model's life-like resin log sitting above its ember bed makes it look like a wood fireplace.
Its design comprises a glass door mesh screen and an interior brick wall. It is free from dust and ashes, requiring minimum checkups.
You can install this model without any hassle, enjoy its heat and appeal in your RV, and enjoy the cozy atmosphere.
Key Points-
Perfectly heats up to 400 sq. ft of area,
Comes in black walnut color,
D x W x H is 11.5 x 24 x 27 inches,
Cool-to-touch body with overheating protection,
Heat output of 4780 BTUs with 6 flame color options.
This model will bring a modern and classy look combination to your home with its wonderful yet sturdy design.
With adjustable temperature from 62-82°F and a 6-hour timer function helps you run the heater as smoothly and as you like. The way the flames dance in this model, you are sure to experience the realism of flames like never before. The feature that sets this model apart is that it has 6 flame color options, and you can even run a cycle of them.
This model not only provides beauty through everything but can be operated without heat too! With its great overheating protection, you can rest assured that your kids or pets are running all over the house. The fireplace is versatile enough to rock your living room, bedroom, and even your dining room.
The three-sided glass of this model ensures that your family is in to enjoy a cozy, warm, and pleasing atmosphere.  
Key Points –
Heats 400 sq. ft of area,
Comes with a glass finish,
L × W × H is 6.5 × 23.57 × 27 inches,
Can be plugged in, uses a 120V outlet,
Comes with remote control,
Weighs 42.6 pounds, with 1500 watts
This model with the above features also has a touchscreen control on its front panel! This feature makes this model different from all others.
With burning and flame controls having 3 options each, it also has 5 flame speed modes and 5 brightness levels for adjusting flames. This model simply has too much to offer.
Yet the best feature this model has is its unique automatic design (the color of the flame and the brightness get automatically changed) and its sleep mode.
It saves energy using LED technology while having the option to be operated with or without heat.
Its design makes this model an additional aesthetic to your room and is very strong in turn and completely safe to operate. Also this model is one of the best pick for apartments.
This model comes with features that surprise you and also excite you.
Get your hands on this model today!
Key Points –
Suitable for heating 400 sq. ft of area,
Comes in color black,
L × W × H is 18 × 5 × 18.11 inches,
Can be plugged in, uses a 115V outlet,
Provided with remote control,
Weighs only 16.8 pounds, with 1400 watts.
This model is an enhancer of the aesthetic of your room and is easily portable too.
This model shuts itself off automatically due to its overheating safety protection design. The size of this model makes it the cutest and unique in terms of placement.
It can go anywhere from TV stands to sideboards to your valued bookshelves. It is very easy not only to install this fireplace but also to adjust or reset its heat settings as well.
This model heats the room using infrared quartz, which maintains the humidity of your space while making you cozy and comfortable.
In short, we can say that this model is the handiest of all and works with extreme care and efficiency.
You would not want to lose the option of having such a cute RV electric fireplace, would you?
Key Points –
Heats 500 sq. ft of area,
Is it the black color,
L × W × H is 27.3 × 8.5 × 21.6 inches,
Can be plugged in using a 110-120V outlet,
You are provided with remote control,
Weighs 27 pounds, with 1500 watts.
This is a small and pretty simplistic fireplace for RVs.
In addition to the features mentioned above, this model also provides safety measures, which is its overheating safety cut-off feature.
4 different flame effect settings, 3 heat settings, and many other settings, such as settings in temperature, timer, proximity sensor, etc., are included in this model, which makes it usable in ways you wish.
You don't have to scratch your head to get yourself through its installation and get your room a pleasing aesthetic. Operating and installing this particular model is a piece of cake.
All that remains now is for you to place an order for this model to bless yourself with a great RV electric fireplace.
5 Features to Check While Buying Rv Electric Fireplace
There are multiple features present in RV electric fireplaces, but these are the 5 features you need to check while buying your chosen RV electric fireplace.
Type of Heater: Fan or Infrared
One important feature is the type of heater it uses, which may be an infrared or a fan-forced heater.
Electric fireplaces use either fan-forced heaters or infrared heaters. Fan-forced heaters distribute heat by blowing air over heating elements, while infrared heaters emit infrared rays that directly heat objects.
The choice depends on your preferences and your heating needs, but both types have their advantages.
Safety
Using an RV electric fireplace safely is one of the most important aspects of the experience. You should pay attention to features such as overheating protection and tip-over shutoff when selecting your model.
A fireplace is automatically shut off if its overheating protection detects that the temperature of the fireplace has reached an unsafe level. The tip-over shut-off turns off the unit if it is unintentionally knocked over, minimizing the risk of fire or injury from the unit being knocked over.
As a result of these safety features, you will be able to enjoy the use of the electric fireplace in your RV with peace of mind.
Freestanding or RV Fireplace Insert Unit
The choice of getting a freestanding or RV fireplace insert depends on your preferences. An insert fits into a specific space in the RV, such as an existing fireplace opening, while a freestanding unit is self-contained and can be placed anywhere in the RV.
If you are not sure which option is right for you, consider the space in your RV as well as the installation requirements. You should choose a freestanding electric fireplace if you are concerned about portability and mobility within or outside your RV. Transporting these units is generally easier and lighter.
However, RV fireplace inserts are more permanent and may require professional installation or modifications before they can be used.
Flames Only Mode
When choosing your ideal RV electric fireplace, choose a model with a Flames Only mode that features realistic flame effects. A flickering fire can be enjoyed without the heat, thanks to this feature. Make sure the flames of your unit resemble the flames of a real fire as closely as possible.
Your RV's flames should be adjustable in brightness and intensity to create the atmosphere you desire. By using this feature, you can enjoy the flame effects even if you don't need additional warmth. You should look for an RV electric fireplace that allows you to customize the Flames Only setting.
There are several features that could be included here, such as an adjustable flame speed, flame color options, or the ability to choose different patterns for the flame. You can create a cozy and inviting atmosphere in your RV by personalizing the flame effects.
Adjustable Thermostat to Control Temperature
It is important to check the temperature range offered by the adjustable thermostat. You should make sure that it covers the desired temperature range for your RV. It is best to choose a unit that allows you to adjust the temperature based on climate conditions and personal preferences.
The thermostat should be verified for accuracy and precision. It should be able to maintain the set temperature consistently without experiencing significant fluctuations. To ensure precise temperature control inside your RV, choose models with reliable temperature sensors and advanced thermostat technology.
A digital RV electric fireplace with an adjustable thermostat and a user-friendly display is one option you might want to consider. The temperature can be set and monitored more easily with a clear and intuitive display. You can adjust the temperature anywhere within the RV with the help of convenient control buttons or remote control, this way.
How Does RV Electric Fireplace Works to Heat the Camper?
RV fireplaces are essentially space heaters equipped with realistic faux flames for ambiance. LED lights and rotating metal reflectors are used in electric fireplaces to produce this realistic flame effect. A crackling fire is created by flickering lights coming from the reflector.
In most RV fireplaces, cool air is passed over a heating element to heat your camper. The heated air is then pushed out by the fan after it has been heated. Therefore, no fuel needs to be burned, and no byproducts need to be vented. With just one plug and a switch, you're ready to go!
In comparison with a wood-burning fireplace, an electric RV fireplace is safer and cleaner. This is especially true in small spaces like RVs. RV electric fireplaces, to conclude, are a package deal bringing warmth, coziness, and safety all in all!
Are RV Electric Fireplaces Gas or Electric? Which is Safe in Campers?
The primary fuel source for RV electric fireplaces is electricity, not gas. Electrical power is required to power them, either through a dedicated connection or by plugging into an RV's power source.
It is generally considered safer to use an electric fireplace in a camper than a gas fireplace for several reasons:
There is no combustible fuel:
There is no need to use combustible fuel with electric fireplaces, such as propane or natural gas. As a result, there is no risk of gas leaks or explosions, which can be dangerous in confined spaces like RVs.
There are no open flames:
LED lights and projection technology enable electric fireplaces to create realistic flame effects without using open flames. By doing this, the electric fireplace poses a significantly reduced fire risk.
Features that ensure safety:
There are several safety features built into RV electric fireplaces, such as automatic shutoff and overheat protection. Overheating is prevented, and damage is minimized with these safety mechanisms.
The operation is ventless:
It is common for electric fireplaces to be ventless, which means they do not require a chimney or ventilation system. As a result, there is no need for complex installation, and the interior of the RV is not polluted with harmful combustion byproducts, such as carbon monoxide.
For proper installation and use of electric fireplaces, it's important to follow the manufacturer's instructions and safety guidelines. For continued safety, your RV's electrical system must be maintained and inspected regularly.
Since electric fireplaces lack open flames and have built-in safety features, they are a safer option for use in campers.
How Much Space Does RV Fireplace Heat?
Based on the model and features of the RV electric fireplace, the heating capacity and coverage area may vary. A typical RV electric fireplace provides supplemental heat to a specific area within the RV, such as a living room or bedroom, rather than heating the entire unit.
British Thermal Units (BTUs) are often used to measure the heating capacity of RV electric fireplaces. A fireplace with a higher BTU rating will have a greater heating capacity. However, there are other factors that can affect the effective heating range, such as insulation, outside temperature, and RV size/layout.
The average RV electric fireplace can effectively heat an area of approximately 100 to 250 square feet with a heating capacity of between 4,000 and 6,000 BTUs.
When considering an RV electric fireplace, it's important to review the manufacturer's specifications and product descriptions to determine the heating capacity and coverage area. Furthermore, customer reviews and experiences can provide valuable information regarding a specific model's performance and heating coverage.
How Much Power Do RV Fireplace Needs?
Depending on the specific model and its heating capacity, RV electric fireplaces may require different amounts of power. Electric fireplaces in RVs typically consume between 750 and 1500 watts of power. A fireplace's wattage rating indicates how much power it consumes when operating at maximum efficiency.
Based on the selected heat settings, flame effects, and other features, the actual power consumption may vary. Make sure you follow the manufacturer's recommendations concerning electrical requirements and consult a qualified electrician if you have any concerns.
FAQs on RV Electric Fireplace for Campers
Can you Run the RV Electric Fireplace All Night?
In an RV, leaving the fireplace on all night can be dangerous. Keeping it on for a long time or unsupervised can cause a fire since it's an electric appliance that heats up. It is advisable to turn it off when not in use, just for your safety. 
Can you Plug Electric Fireplace into a Regular Outlet?
It is not necessary to install a separate circuit for electric fireplaces since they can be plugged into a standard 120 Volt outlet.
Conclusion
Lastly, before you leave, please read this…
Before you pick your RV electric fireplace, be aware of what features you need to look for. Also, understand how an RV electric fireplace works and how much area it heats.
Lastly, know the specifications of your model to provide the right amount of electricity to it and enjoy its warmth the most!
That's it for this article!