8 Best Wall Mounted Electric Fireplaces 2023 (Buying Guide)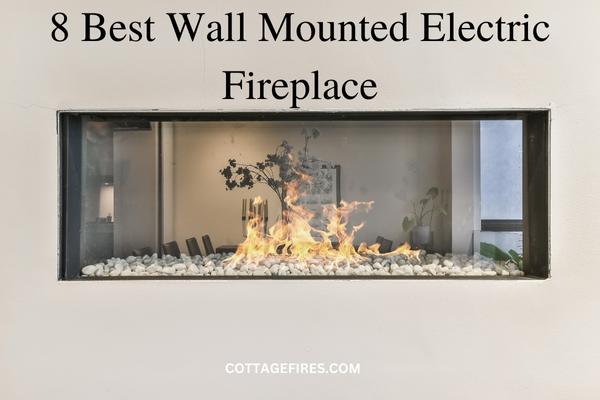 Adding an electric fireplace to your wall provides warmth and enhances the aesthetics of any home.
Some homeowners prefer wall mounted electric fireplaces over other models, and you are one of them. But in such a crowded market, how do you choose between so many available models?
My article includes a list of the top wall-mounted electric fireplaces of 2023 as well as the features you should consider before making a purchase.
Now let's dive right in and help you buy wall mounted electric fireplace for your home.
List of Top 8 Wall Mounted Electric Fireplace
After deep research, understanding the what readers need, and considering the budget, designs and colors I have brought you the best wall mounted electric fireplace. Make sure you read till end, and I hope you find the best.
Mystflame Ultra Slim Frame Wall-Mounted Electric Fireplace
Key features –
Heats up to 450 sq. ft of area,
Comes in multi colors,
Has dimensions of 72 in. W x 17.7 in. H x 5.5 in. D,
Weighs about 80 pounds with 5100 BTUs of heat output,
Assist you with remote control, having 2 heat modes.
This traditional electric fireplace uses a 110-volt outlet and is very simple to install. You can either wall mount it or recess this model in the wall.
With realistic flame effects from its ultra-high intensity LED lights, this model also has 3 flame colors and 3 top light colors, which can be adjusted to match your comfort. It is delivered with faux fire logs and glass crystals that highlight its beauty and give you the feel of a traditional fireplace.
Having remote control and 2 heat modes makes this model easy to have command on the model while having a thermostat ensures you never get cold in any and all seasons.
This model would be perfect for your living room, increasing the warmth and aesthetic of the room.
Also, my friend said that not only is this model elegant and impressive, but it has also been designed in such a manner that it has upper front vents that circulate the heat all over the room in an even manner.
So, why wait to buy this awesome wall-mounted electric fireplace any longer? Go for it today itself!
R.W.FLAME Electric Fireplace
Key features –
Heating range of 400 sq. ft of area,
Available in black color,
With dimensions of 50 in. W x 18.1 in. H x 3.9 in. D,
Weighs 48.4 pounds, has 2 heat modes,
Comes with a multi-function remote control.
This model is the most user-friendly on the list of wall-mounted electric fireplaces. Installing this attractive and surprisingly small wall-mounted electric fireplace is not a task.
You can control this model with a remote control and touchscreen mode.
Did you know? This fireplace has 12 flame & LED flame color options, 5 flame speed, and brightness level settings available to match your every mood and occasion.
Two operable modes make this model both energy efficient and a high-end product. It has been certified by ETL when it comes to safety regards. This makes it safe around your kids, elders, and even pets! How great, no?
This wall-mounted electric fireplace would be an excellent addition to your living room or bedroom. You are in for a treat!
Touchstone 80004 The Sideline Electric Fireplace
Key features –
Suitable for heating 400 sq. ft of area,
Comes in a black finish, with a heat output of 5000 BTUs,
Its dimensions are 50.4 in. W x 21.5 in. H x 5.5 in. D,
Weighs about 59 pounds, uses a 110-120V outlet,
Delivered with a multi-function remote control.
This model provides realistic flames paired with its elegant look and multiple settings available in each feature.
This fireplace can even be installed in your previous or existing fireplace openings with a cool-to-touch feature to bring you safety. You can choose to enjoy this model without heat as well. Keep a distance of at least 8 inches between your fireplace and the T.V. set.
This model is ideal for heating your basement or your bedroom. This model is the key to upgrading the aesthetics and comfort of any room you install it into.
Thinnest – Vitesse Ultra-Thin Wall Mounted
Key features –
Heating range of 400 sq. ft of area,
Comes in black,
With dimensions of 50 in. W x 18.1 in. H x 3.85 in. D,
Weighs measly 33 pounds with 5100 BTUs of heat output,
Has both a remote control and touch screen to assist you.
You can recess this model, semi-recess it in the wall, or even wall-mount it. Having two operable modes of 750W and 1500W is a great feature that helps your model be efficient and save energy.
Not only is this model ETL certified regarding safety, but it also has the feature that avoids overheating. With five flame speed options, 12 ember bed display settings, and 12 ember bed color lighting options, this model can be customized on maximum levels.
It also has a timer function that ranges from 1-8 hours so that you sleep without any worries! And, yes! You can also exchange any quality-affected components or parts within the 1st year.
I recommend this appealing model in your lovely living room or bedroom.
12 Flames Option – Tangkula Recessed Electric Fireplace
Key features –
Enough to heat 400 sq. ft of area,
Has two heat modes and a 5100 BTUs heat output,
It has dimensions of 60 in. H x 18.1 in. W x 3.9 in. D,
Weighs only 48.5 pounds,
You can operate it with both manual control and remote control.
This model has been designed so that its heated air reaches you faster than other models. Also, 12 flame color options and 12 ember bed settings allow you to set it as per your comfort. As this model is packed with many crystals, you will have one of the most realistic flame experiences.
You also enjoy 5 flame speed and brightness level adjustment options, paired with a 1-8 hour timer control, letting you sleep like a baby after a big day. As this fireplace is certified by ETL as safe, you needn't worry about overheating.
Surprisingly this wall-mounted electric fireplace is suitable not only for your living room or bedroom but also for your office. Awesome, right?
PuraFlame Alice Wall Mounted Electric Fireplace
Key features –
Heats up to 400 sq. ft of area,
Comes in black or white colors, with a heat output of 5100 BTUs,
Its dimensions are 50 in. W x 20.27 in. H x 6 in. D,
This model weighs around 60 pounds, uses a 110V outlet,
Has a touch screen control and remote control too.
This model does not fail to provide realistic flames. That is because it has ultra-high-intensity LED lights. You can either go for log sets or crystals when it comes to the ember bed of this model.
You will be amazed to know that this fireplace has 4 flame settings, each one of them lighting up the flames in a different color(s). Did you know? You can enjoy this model throughout the year as this can be operated without heat.
Not only will you have two operable modes to choose from, but also you have a countdown timer that ranges between 30 minutes up to 9 hours! Yes, you read that right!
I think this unique piece of beauty is a great addition to your living room or your entertainment center.
Unique Design – OOIIOR Wall Mounted Electric Fireplace
Key features –
This model is sufficient to heat to 400 sq. of area,
Comes in an unique silver-gray color,
Has dimensions of 37.4 in. W x 17.7 in. H x 5.6 in. D,
Weighs only and only 24.4 pounds, with a heat output of 5100 BTUs,
Assists you with remote control.
With its stylish design, this model heats and adds to the aesthetics of your place both at once. 12 flames and led color options add to this model's awesomeness. Also, you can control this model through its button panel or the remote control delivered with this model.
TOP FEATURE – this model has a cycle mode that automatically changes the colors of the flames and ember bed every 10 seconds. How beautiful, no?
It has been certified by ETL and CSA, making it one of the safest models, easily avoiding overheating. You also must know that this model provides a whopping 2-year warranty.
This easily installable mounted electric fireplace will go great in your bedroom, living room, and your entertainment center.
TURBRO Electric Wall-Mounted Fireplace
Key features –
Heats a room of 400 sq. ft,
Comes in the color black, with a heat output of 4600 BTUs,
Has dimensions of 36 in. W x 21.5 in. H x 4 in. D,
Weighs only 40.6 pounds,
You can use the remote control or the hidden touch panel.
With clear and real flames, this model also has 6 flame and ember bed color options for you at your convenience. Its auto-cycle mode enables you to enjoy this model in every mood of yours.
This model is one of the most decorative pieces out there. It requires 1400W of power but warms your room rather quickly. Coming with a timer control of 1-8 hours, this fireplace comes in clutch at night.
TOP FEATURE – The noise level of this terrific model does not exceed 37 dB. Magnificent, right?
CSA has certified this model to be completely safe around your whole family. Also, your children are 100% safe due to its feature of a child lock.
I would like to recommend this pretty model in your bedroom or your living room or even in your office(s). 
Features to Look Before Buying Wall-Mounted Electric Fireplace
Below, I have listed some of the most important features one must look for before buying their chosen wall-mounted electric fireplace. Let's look at them individually.
Size & Location
If you intend to mount the fireplace on a wall, measure the space available. It is important to ensure that the electric fireplace you choose fits within those dimensions. Ensure that the unit fits properly by paying attention to its width, height, and depth. In relation to the size of the room, consider the fireplace's heating capacity.
You can determine whether it can effectively heat your desired space by looking at the BTU rating or wattage. It is common for manufacturers to provide guidelines on the recommended size of a room for optimal heating.
You should check the fireplace manufacturer's specifications to find out how much clearance should be left between the fireplace and the surrounding walls and furniture. Proper ventilation and prevention of overheating are essential.
Ensure that the location where the installation will take place has access to an appropriate power source. It is common for electric fireplaces to operate off a 120V outlet, but double-check the units' voltage and amperage requirements. The fireplace's mounting bracket or wall mount should be considered.
Fireplace should be mounted easily on your specific wall type (drywall, concrete, etc.). Many fireplaces come with adjustable mounting brackets to accommodate different wall types. Analyze the fireplace's viewing angle to determine the best one. 
To ensure comfortable and enjoyable viewing from different areas of the room, choose a model that can be adjusted in angle or tilt. Make sure the power cord is hidden or managed in the fireplace.
Power Supply
You should make sure the voltage requirements of your electric fireplace match the electrical system in your home. Voltage for electric fireplaces is typically 120 volts, which is the standard household voltage. It is important, however, to verify the specific voltage requirements listed by the manufacturer.
Be sure to check the length of the power cord that comes with the fireplace. To prevent the need for extension cords, ensure the power cord is long enough to reach the nearest power outlet.
Considering hiring an electrician to install a new outlet closer to the fireplace can be a good option if the existing outlet is far from where you want to install the fireplace. Make sure the power cord has the right type of plug. Generally, electric fireplaces come with three-prong plugs that fit standard outlets.
You should, however, double-check the type of plug to ensure compatibility with your home's outlets. In the event that the plug does not match your outlets, you may need to use an adapter or consult an electrician. Check to see if a dedicated circuit is required for the electric fireplace.
Consult a licensed electrician if you have any doubts or concerns about the power supply requirements.
Ease of Installation
Choose a fireplace that is plug-and-play, which means it can be easily connected to a standard power outlet without requiring complicated electrical work. A hassle-free installation is made possible by this method. Find a fireplace that can be mounted in a variety of ways.
In addition to clear instructions, it should include all the hardware needed for wall mounting. For easy positioning, it should offer adjustable brackets or mounting templates and be compatible with different wall types, such as drywall, concrete, or brick. During installation, choose a fireplace that is lightweight and easy to handle.
Consequently, mounting it on the wall is easier without the need for additional assistance. Make sure, however, that the lightweight construction does not compromise the unit's durability or stability. Make sure the fireplace comes with clear, concise, and easy-to-follow installation instructions.
You should look for a fireplace that is easy to assemble. It is a good idea to choose a fireplace that has a cord management system. As a result, the installation will stay neat and tidy for a longer period of time. Find out what customer support options and resources are available from the manufacturer.
You should check with the manufacturer if professional installation is available or if you have concerns about DIY installation. The installation will be completed by experienced technicians, saving you time and ensuring safety.
No matter how experienced you are or how familiar you are with electrical work, you should consider these features when choosing a wall-mounted electric fireplace.
Consider the Safety
You should ensure that the electric fireplace is equipped with a built-in overheat protection system. If the unit reaches a high temperature, this safety feature automatically shuts it down, preventing any damage or fire risk. You should choose a fireplace that remains cool to the touch while it is operating.
You can prevent accidental burns and injuries with this, especially if you have children or pets in the house. Furthermore, a cool exterior surface minimizes the risk of flammable materials nearby. Safety cutoff switches should be installed on fireplaces.
In the event that the fireplace is accidentally tipped over or falls from the wall, this switch automatically turns it off. In addition to preventing accidents and potential damages, it adds an extra layer of protection. Check that the fireplace's front glass panel is tempered.
Tempered glass is intended to withstand high temperatures and is less likely to shatter if it is exposed to extreme temperatures. A fireplace with a child lock is a great option if you have children at home. Using this feature prevents children from accidentally adjusting the settings or turning on the fireplace without supervision.
Heating Options
It is important to check the heat output rating of the electric fireplace, which is typically measured in British Thermal Units (BTUs) or watts. Check the fireplace's heat output against the size and area of the room you want to heat to ensure that the fireplace can effectively warm the area.
Make sure the fireplace you choose has adjustable heat settings. In this way, you can customize the level of heat output according to your comfort level and heating needs. To provide warmth, electric fireplaces typically use either fan-forced heaters or infrared heaters.
Heaters that use fan-forced air blow warm air into the room, while infrared heaters use radiant energy to warm objects and people. Consider your preferences and the type of heating experience you desire when choosing a heating method. Thermostat-controlled fireplaces are a good option.
With this feature, you can set a desired temperature, and the fireplace will automatically adjust its heat output to maintain it. A fireplace that offers a heat-without-flame option may be more appealing if you want the visual ambiance of a fire without the heat. If you have a larger home or multiple living areas, consider a fireplace with zone heating capabilities, which allows you to enjoy the flame effect without activating the heating function. The fireplace's heating options can be controlled conveniently via a remote control. 
Ensure the unit is equipped with an easy-to-use remote control that controls temperature, heat settings, and timers. By doing so, you can make adjustments to your heating options from your couch or bed.
LED Flame Effects
Choose a fireplace that offers a realistic flame appearance. LED flame effects should resemble a traditional wood-burning fireplace with flickering flames and glowing embers. To create an authentic visual experience, the flames should move naturally and have a three-dimensional depth. 
Make sure the fireplace allows you to adjust the brightness and intensity of the flame effects. As a result of this feature, you can customize the ambiance based on your preferences and lighting requirements. To create the desired atmosphere, you should be able to dim or brighten the flames. 
Multiple flame colors are available on some electric fireplaces. Aside from the classic orange and yellow flames, you can choose from blue, purple, green, or other colors. Flame colors can be matched to your room decor or set to create a certain mood. Make sure the fireplace you choose has a flame speed control that can be adjusted.
By using this feature, you can change the speed at which the flames dance and flicker. You should check to see if the fireplace has an ember bed beneath the flames that looks realistic. To enhance the visual appeal and authenticity of the fire effect, the ember bed should contain glowing embers or logs.
The fireplace looks more realistic because of it. A multifunctional remote control is an important feature to look for when choosing a fireplace. Depending on the flame effects, the remote should include controls for brightening, intensifying, changing colors, and speeding up the flame.
Find out if the fireplace offers flame-only operation. With this feature, you can enjoy the visual ambiance of the flames without activating the heater. Providing a cozy and inviting atmosphere without generating heat, it is ideal for year-round use.
Conclusion
Before you leave, make sure to read this…
Any model from the list above is worth your hard-earned money and will keep you warm and cozy for years to come. The only thing to keep in mind before purchasing your chosen model is to look out for all the features I have mentioned.
Now, you are all set to make your home a place filled with warmth, aesthetics, and coziness!