5 Most Energy Efficient Electric Fireplaces 2022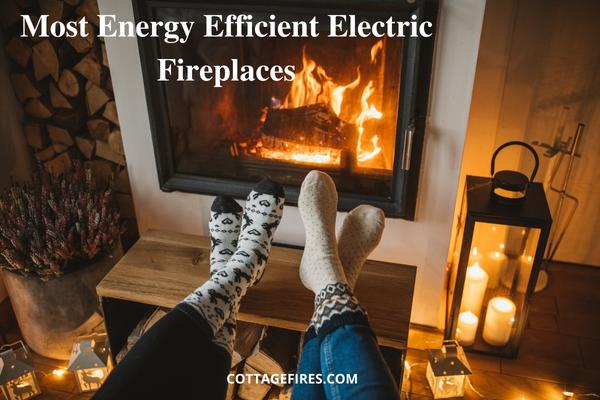 Electric fireplaces are known for their efficiency as they do not require either a vent or a chimney. This ensures all the heat stays in the room, doubling its efficiency.
But apart from this having an energy-efficient electric fireplace is anytime a steal deal.
I have found out the most energy efficient electric fireplaces on the basis of Watts and BTU (British Thermal Unit). Keep reading to get your choices straight.
5 Most Energy Efficient Electric Fireplaces
So, let's list 5 of the most energy-efficient electric fireplaces from which any will win your heart and make up your mind!
Ameriwood Home Lamont Mantel Fireplace
Key Features –
Heating range of 400 sq. ft of area,
Comes in black and white color, using a standard 120V outlet,
Has dimensions of 69.3 in.L x 44.7 in.H x 12.6 in.D,
Assists you with remote control,
Weighs around 108 pounds, with a heat output of 4600 BTUs.
Ameriwood Home Lamont Mantel Fireplace additionally also comes with 2 bookcases which have 3 shelves and that too on each side. Each shelf can hold 15 lbs. Of weight as well.
My friend bought this and said it's safe to say this model is packed with both features and ample space for storage. Not only does this model have realistic flames, but it provides you with the option to use them with or without heat.
The use of 1400 Watts and AntraFlame technology used by Ameriwood exclusively help the LED lights last up to whopping 50000 hours!
You also have total control over the settings of your fireplace as the provided remote control helps you adjust and customize the settings as per your comfort.
This model needs 2 people for its installation and is a simple plug-in electric fireplace that one can use with ease and convenience.
All in all, it's a super efficient and classy-looking electric fireplace that lights up any room of your house!
Canyon Heights Faux Stacked Stone Electric Fireplace
Key Features –
Provides heat for 400 sq. ft of area.
Comes in white or whiskey maple color, using standard 120V outlet.
With dimensions of 60 in.l x 35.5 in.H x 15.5 in.D.
Comes with user-friendly remote control.
Weighs about 86 pounds using a heat output of 5118 BTUs.
Let me begin by saying that having used this fireplace personally, it's one of the top energy-efficient electric fireplaces.
Its versatile design and look, combined with cool-to-touch glass and its automatic shutoff feature, make it equally safe.
You can also sleep super comfortably at night as this model comes with a timer that goes up to 9 hours.
Special LED bulbs help increase the efficiency of this 1500W using the model without any extra expense. A shocking fact about this Canyon Heights Faux Stacked Stone Electric Fireplace is that its energy usage is equivalent to that of a regular coffee maker! Shocking, isn't it?
Its plug-in design and some extremely good features, which are operated smoothly with the provided remote control, make this model popular for being low-cost in its operation too.
This is an electric fireplace one should not miss, economically and otherwise.
R.W.FLAME 60″ Recessed and Wall-Mounted Electric Fireplace
Key Points –
Available in black color,
Heat zone of 400 sq. ft of area,
Can be wall mounted or in-wall recessed, using 120V outlet,
L × W × H is 60 × 3.85 × 18.11 inches,
Includes remote control,
Weighs 66.9 pounds, with 1500 watts.
This model is filled with features and comfort that we all seek for.
Providing 12 flame as well 12 LED flame bed color modes and 5 adjustable flame brightness levels alongside 5 flame speed modes.
Its auto-heat kill safety feature makes this model super safe and has infrared heat, allowing your room to heat up without losing all its moisture.
Having the feature of touchscreen control functions and an adjustable thermostat paired together is one of the reasons why this model sees the spotlight!
All in all, this is an excellent buy for anyone who is looking for the total package in 60-inch electric fireplace models.
Rintuf Electric Fireplace 26" Freestanding w Mantel
Key Features –
Heats up to 435 sq. ft of the area perfectly.
Comes in black and brown color options.
Has dimensions of 24.8 in. l x 25.7 in. H x 11.6 in. D, using a maximum of 120v outlet.
Has multifunctional remote control to assist you.
Weighs only about 59.9 pounds, with a heat output of 5100 BTUs.
This small and powerful electric fireplace is known for its historic look and energy efficiency.
The two different operating modes of 750W and 1500W make this model unique in itself and state how energy efficient it is.
It has passed the USA's ETL standards, which declare how safe it is to have around kids and pets.
Coming with 7 options for flame brightness makes this fireplace very customizable and impactful. Not only can you use the heat and flame effect separately but also extremely realistic flames due to the usage of ultra-high intensity LED lights in this Rintuf Electric Fireplace 26" Freestanding w Mantel.
Flexible remote control, modern and appealing design, and most of all, its small and "easy to fit anywhere" size mark the various advantages of this electric fireplace.
This is one option if you want a compact and elegant energy-efficient powerhouse!
Selectric Electric Fireplace Heater with Remote
Key Features –
400 sq. ft heating area.
Comes in two variants of black colour.
Dimensions of 15.5 in.l x 22.4 in. H x 10.6 in. D, using a 120v outlet.
Delivered with remote control for ease.
Weighs measly 10.5 lbs with two operable modes.
This fireplace is truly one of its types. My friend recommended this piece of beauty to me by mentioning all its features and advantages as enthusiastically as possible.
With 3 flame brightness adjustment options and a panoramic 3-side view, the design is a surprising feature for an electric fireplace.
The heat is spread equally all over the room, removing ash and maintaining the room's moisture with the help of the infrared quartz elements of this electric fireplace.
It has an automatic overheat protection system and a cool-to-touch surface, making it safe even around kids, pets, or the elderly. A timer feature and a built-in intelligent thermostatic control system help to reach and relax at your desired temperature.
Two different operating modes of 1000W and 1500W with energy-efficient LED lights are the reasons which make this an energy-efficient model overall.
You simply can't ignore this masterpiece that serves the purpose of heating, increases the aesthetic of your room, fits in any and every room, and is energy efficient!
Don't wait to have this fireplace installed in your house; install it today! You would surely be proud of your selection.
Energy Efficient Electric Fireplace Buying Guide
When buying an energy-efficient electric fireplace, you must look for lower wattage and a higher BTU rating.
Lower wattage means your electric fireplace will run on a 120V outlet smoothly, which will increase the efficiency of your electric fireplace tremendously.
Ideally, go for an electric fireplace with a maximum of 1500W, as that fireplace would be the most energy efficient.
Electric Fireplace Wattage
Energy efficiency is directly proportional to the wattage level that your electric fireplace uses.
Once you know the wattage required by your electric fireplace, you will consider other factors, such as LED lights and the feature of using your electric fireplace with or without heat to make it more energy efficient.
Low Wattage Electric Fireplace
Here, Low wattage electric fireplaces are fireplaces that operate within the range of 750W up to a maximum of 1000W.
Very few electric fireplaces fall in the low-wattage category.
The models with this wattage range are –
R.W.FLAME 60″ Recessed and Wall-Mounted Electric Fireplace (adjustable 750W and 1500W)
High Wattage Electric Fireplace
High-wattage electric fireplaces range from 1500 watts or above. I have observed that best-selling electric fireplaces in markets have 1500 watts.
Most electric fireplaces fall in this category.
Some of the HIGH WATTAGE models are –
Touchstone Sideline Elite Smart (adjustable 750W and 1500W)
Electric Fireplace BTU
As we know, BTUs stands for British thermal unit, a heating unit.
BTUs help you to estimate the time required to heat the room and the capacity of your electric fireplace.
1 watt is 3.41 BTU/h (BTU per hour) approximately.
Naturally, electric fireplaces with higher BTUs deliver more heat output than those with lower BTUs.
On average, 4600 BTUs are delivered by all electric fireplaces.
Low BTU Electric Fireplace
Low BTU electric fireplaces, which deliver less heat due to their delivery rate of BTU/h, are mentioned here.
Low BTU electric fireplace ranges from 0 to 4600 BTU.
Some of the LOW BTU models are –
High BTU Electric Fireplace
Most of the electric fireplaces we studied were high-BTU fireplaces. High BTU electric fireplaces range from 4600 or 5000 BTU above.
We know the higher the BTU higher is the heat output.
Some of the HIGH BTU models are –
FAQs on Most Energy Efficient Electric Fireplaces
How many Watts does an Electric Fireplace use?
On average, electric fireplaces end up using 1500 watts most commonly.
Usage of 1500 watts is ideal for easily heating a room of 400 sq. ft.
How many AMPs does an Electric Fireplace use?
Typically, amps ranging from 8.3 amps to 16 amps are used by an electric fireplace.
The amount of amps an electric fireplace uses is around 12.8 amps, while 12.5 amps usage is the most common.