Can You Leave an Electric Fireplace On Overnight?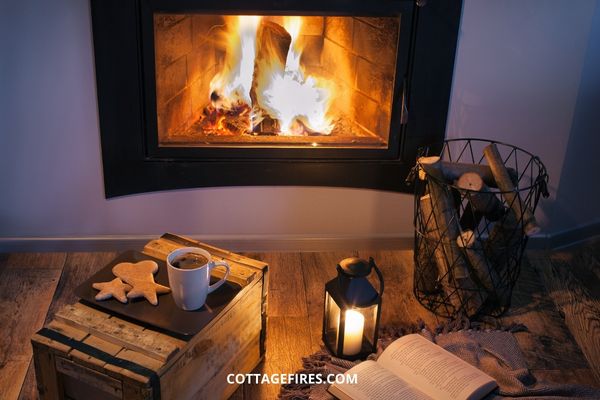 Although turning your electric fireplace off whenever possible remains the best option,
There isn't any problem leaving an electric fireplace on overnight. However, some safety concerns are raised.
Follow this article and the tips for safely leaving your electric fireplace on overnight.
Can you Leave the Electric Fireplace on Overnight?
In short, yes, it's OK to leave your fireplace on overnight. Basic safety precautions must be considered when it is on overnight.
Firstly you have to ensure that your electric fireplace has been equipped with a feature known as safety shut-off. (in case it falls or tips over in the forwarding direction)
After this, collect and get all your flammable materials away from the electric fireplace. (At Least 35-36 inches away)
If possible, test these tips beforehand, ensuring it's okay to leave your Electric fireplace on overnight.
If you still are concerned, I prefer using an electric fireplace with remote control.
How long can you Leave an Electric Fireplace On?
As electric fireplaces don't produce real fire and flames, indicating they are safe in the 1st place to run for a longer period than other traditional fireplaces.
Another benefit that encourages us to use it for a longer time is its ability to save our bills by being energy-efficient in its design itself.
The only safety concern lies in the heater of the electric fireplace. Fan forced heaters which are the most commonly used, get proportionally hot as per the period for which they are left turned on.
Infrared heaters result in being expensive as they heat a larger area generally.
These heaters start drawing power on a large scale on higher heat settings, getting very hot.
Though the manuals don't mention how long the electric fireplace can run, they note that these should not be left unattended.
When it's not ok to Leave your Electric fireplace On?
When using an extension cord to leave your electric fireplace on, it's a huge no. This tip can help you from fires being generated in your house!
Sometimes, your electric fireplace may emit a smell due to overheating of wires. If you smell something besides your common fragrance of the room and electric fireplace, it indicates signs of your electric insert having a problem.
This depends on whether you are someone who acts out while being asleep.
If you sleepwalk or have movements during your sleep based on your dreams, you could not only hurt yourself but end up knocking it over unknowingly, causing severe asset damage as well as physical damage.
Can Electric Fireplaces catch fire?
Electric fireplaces catching fires seems unlikely to happen as the flames generated by the electric fireplaces are artificial, creating the illusion of fire.
Also, they have the features of safety that prevent the electric fireplaces from overheating and becoming a fire hazard.
However, if flammable objects are near, it pose a threat of spreading fire. Furthermore, if something hits the electric fireplace, making it roll forward or tip over, then heat produced from the electric fireplace can cause damage around your house.
Children and pets running and playing around must be careful that their accidental knockoff of an electric fireplace can result in causing a real fire.
Safety Measures to Follow (for leaving electric fireplace on overnight/long time)
To eliminate all the risks and mishaps, it's advisable to follow these important tips :
Don't cover the whole electric fireplace up, as keeping it uncovered will aid in ventilation, reducing overheating possibility.
Maintain proper distance between the objects(flammable and others) and the electric fireplace to ensure there is no chance of fire or any other damage to property or life.
Make sure you use the thermostat feature of your electric fireplace ( if it exists in your model) to set the temperature you desire, as the electric fireplace will shut itself off after it has reached the temperature entered in the thermostat.
Similarly, it can also have an automatic shutting-off feature guaranteeing no overheating issues.
Be aware of any extension cords or tightly bent, over-stretched ones that could cause problems over time.
Pay attention to the switches of your electric fireplace and repair or replace them if they have become loose or broken.
Under no circumstance should any kind of liquids be allowed near your electric fireplace.
Conclusion
When leaving your electric fireplace on overnight to serve your needs, you must be extra careful about some tips and safety concerns.
Remembering when to and equally when not to keep your electric fireplace on overnight or for a longer time will keep your surroundings safe from fire and damaged outcomes.
As long as you follow safety measures, no one and nothing will restrict you from using your electric fireplace overnight or for a longer time.
FAQs
What should you know before keeping the electric fireplace on overnight?
If you leave your Electric fireplace on overnight without taking safety precautions and just get lost in your sleep, the Electric fireplace can overheat and even start fires.
Do not leave your electric fireplace unattended whenever you keep its heater on.
What should you do if you accidentally left an Electric Fireplace overnight?
Accidents like these can result in fires and a lot of damage.
If you do not have the feature of automatic shutting-off to avoid overheating or setting the temperature in your thermostat, it's very risky to sleep while your electric fireplace is on overnight.
Can you Leave the flames of the Electric Fireplace on overnight? 
If the flame-only feature comes with your electric fireplace, you can leave your electric fireplace's flames on overnight.
However, you also face the risk of power being cut while you are sleeping with your electric fireplace on overnight, which would, in turn, result in fire, even if you can turn off the unit later in the morning or as soon as you wake up.