Can Electric Fireplaces be used Outdoors? [Do's & Don'ts]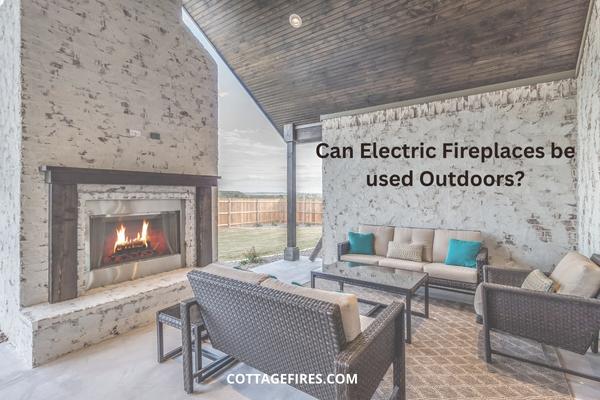 Electric fireplaces are pretty famous among other types of fireplaces, but did you know?
Electric fireplaces are suitable to use indoors and outdoors as well as in RVs too.
Let's dive into how you can use your electric fireplace outdoors.
Can you use an Electric fireplace Outside?
At home, we have a controlled environment, hence leaving some wires or cables of an electric fireplace in some corner is perfectly normal.
But the same is not the case when using an electric fireplace outside.
The electric fireplace should not come in contact with water. Otherwise, the worst could happen.
The fireplaces that are rated to use in an outside environment should be bought.
The indoor ones are not built for the outdoor environment.
To know whether your Electric fireplace can be used outside or not, you should go through the manual that comes with an electric fireplace.
In the manual, it will be mentioned explicitly that it is "Not for outside use", such statements in the manual declare that your electric fireplace is just for indoor use.
Electric fireplaces that can be used outside can also be used inside your house.
In short, Every outdoor electric fireplace can be an indoor electric fireplace, but all indoor electric fireplaces cannot be outdoor electric fireplaces.
How do you Install an Outdoor Electric Fireplace?
You need to follow and pay attention to these below-written steps when installing an outdoor electric fireplace. They are –
If there is no proper electricity supply unit where you place the fireplace, you should insert the power supply before installing the electric fireplace.
Next, install the fireplace in the area where you want your fireplace to be and properly secure them from all the sides. There will be some brackets that you should attach to the wall of your fireplace.
Then the next step is attaching the trim or the frame that will cover the gaps between the insert and the walls of the fireplace opening.
Some inserts come with glass frames, others with metal trim.
You can also use your custom trim.
To remember – Ensure the waterproofing case and the specialized cord are intact before using your outdoor electric fireplace. Due to waterproofing, these fireplace are also used in bathrooms.
Should we go with a convection or radiant heating electric fireplace?
Electric fireplaces generate heat in two ways.
Convection is one-way electric fireplaces take the cool air in and blow out the hot air.
The heat remains even after you have switched off the fireplace.
Convection-based fireplaces are good if you want to heat a big room.
The other way is by radiation.
These types of fireplaces make use of infrared light to produce heat.
They are useful to heat small spaces and if you want to get warmed up immediately.
The outside environment would be colder than the inside.
And, you will have to heat a large area while wanting it to last longer.
Considering the requirement, convection heating electric fireplaces are a better choice than radiant ones for the outside environment.
Best Outdoor Electric Fireplace
Some amazing brands offer electric fireplaces suitable to be used outside.
Wall mount electric fireplaces are great, and some of them are also rated as outdoor-friendly electric fireplaces.
Some brands and models that we refer to are promising. Let's take a look :
The Touchstone electric fireplace, i.e., Touchstone sideline Indoor/Outdoor 80049, comes with a weatherproof casing.
This electric fireplace is a wall-mounted one.
Then there are Amantii Panorama electric fireplaces i.e., Amantii Panorama Indoor/Outdoor series. These are Deep built-in electric fireplaces of 60-INCH.
These are to be purchased with covers alongside.
Using Outdoor Electric Fireplace: Do's and Don'ts
Do's –
Place an outdoor electric fireplace in a safe location with the proper connection.
Keep your pets and kids away from it.
Avoid touching its surface directly as it's dangerously hot.
Make sure your electric fireplace is weatherproof and also waterproof.
Have a professional look at your set-up and seek his approval.
Do use a fire pad always to avoid getting damaged.
Clear space around 10 feet from your outdoor electric fireplace to kill the risk of fires.
Don'ts –
Don't place them too close to windows or walls.
Do not leave it switched on when not in use.
Don't modify or repair it by yourself; always hire a professional.
Do not let any dust or moisture stay on your outdoor electric fireplace.
Don't give less importance to good ventilation.
Conclusion
Besides outdoor electric fireplaces being perfectly safe to use outdoors, they have a pretty easy installation process.
Convection heating electric fireplaces work better for outdoor electric fireplaces.
Touchstone and Amantii Panorama are the brands of which outdoor electric fireplaces look the most promising.
It is also clear that outdoor electric fireplaces have some do's and don'ts to be followed.