Top 5 Quiet Electric Fireplaces for this Winter [2023]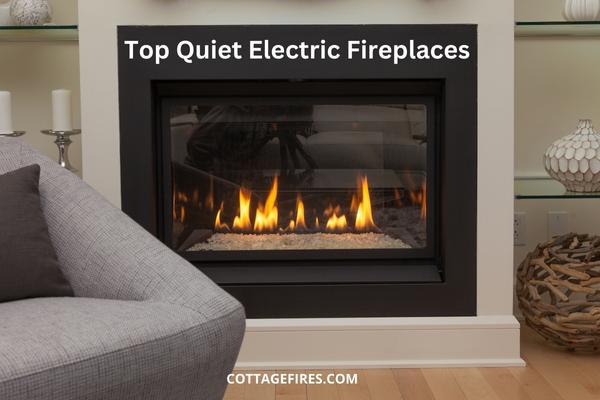 Electric fireplaces are undoubtedly one of the best sources to heat your room precisely.
But won't you want a Fireplace that is quiet and noise-free? You have come to the right place!
We have made the perfect list of quiet electric fireplaces for this winter!
List of Top 5 Quietest Electric Fireplaces
After studying some of the electric fireplaces in market I'm able to provide you the list of top 5 Quiet Electric Fireplaces for your winters.
R.W.FLAME Recessed and Wall Mounted Electric Fireplace – Most Silent
Key features –
Heating range of 400 sq. ft of area.
Comes in black.
Weighs around 66.9 pounds with dimensions of 60 in. L × 18.1 in. H × 3.85 in. D.
In-wall and recessed way make it easy to install.
Comes with a multi-function remote control.
First, this electric fireplace is an improvised model of its previous one. Therefore, its new and redefined thickness makes this look more practical and attractive in design.
Its fan is not quiet but also evenly distributes the heat and warmth in your room while providing a realistic look without any loud noises.
Having both touchscreen and remote control as its operating modes gives this electric fireplace an advantage.
12 flame and LED flame bed color modes and 5 modes for the flame speed, and 5 modes for the brightness of the flames provide you with many options to enjoy this fireplace in your comfort.
R.W.FLAME Recessed and Wall Mounted Electric Fireplace ensures safety as it has auto-heat kill safety, which avoids superheating altogether.
I have installed this fireplace in bedroom, and from my experience, I can guarantee that this fireplace is easy to assemble, provides you with remote control for easy control, quiet, and is definitely worth your money!
Enjoy the winter with only heat and no noise!
Key features –
Heating area of 400 sq. ft.
Weighs around 55.9 pounds with dimensions of 60 in. L × 18.1 in. H × 3.8 in. D.
Can be installed by wall mounting or by wall recessing it.
Provided with remote control.
Plugs into a standard 120V outlet with 1500 watts.
Xbeauty Electric Fireplace in-Wall Recessed and Wall Mounted is a perfect addition to any room as it enhances any and every room's aesthetic.
With options that allow it to be recessed or semi-recessed in any wall and even be wall mounted, this model screams that it is easy to install.
ETL certification for security and 12 flame colors, including newly upgraded 3 classic flame colors (red, blue & orange) and 12 ember bed color lighting options alongside 5 options for both flame speed and brightness, make this electric fireplace stand out.
Its sleek design helps you safely install it under your TV set, including overheat protection.
My favorite feature is whisper quiet blower heating that ensures it doesn't give off noise louder than 40dB.
A great 1-8 hours timer setting and flexible remote control make it super easy for you to take total control over this fireplace.
The brand Xbeauty which has manufactured this masterpiece, does not compromise on customer service as they provide a free replacement for installation problems and even for damage or missing parts within 1 year of your purchase! Isn't that great?
This electric fireplace is much more than just simplicity!
Key features –
Heating range of 400 sq. ft of area.
Weighs around 47.4 pounds, with dimensions of 60 in. L × 18.1 in. H × 3.9 in. D.
You can wall mount this Fireplace.
Has a remote control to assist you.
Can be plugged into a standard 120V outlet with 1500 watts.
With 5 different size variations, this electric fireplace is already versatile enough to fit every type of room, providing an attractive look to your room and great stability.
I have used this electric fireplace in hotel rooms, and my experience was quite good as this fireplace makes minimal noise, and you can sleep well. High-intensity LED lights have helped this model's flames appear as real as possible.
You have the freedom to adjust the color of the flames as per your choice, as this fireplace provides 12 flame color options.
Both remote control and touch screen make it easy to operate, and its other features of a 1-8 hour timer, sleep mode function, adjustable speed, and flame color add to its advantages.
This fireplace has passed the ETL security certificate making it super safe to use while having auto-kill heat safety, which keeps you secure from overheating problems.
In short, this electric fireplace is not only great in its design but also is a total package for its features.
Key features –
Heats 400 sq. ft of area.
Comes in black.
Weighs around 58 pounds with dimensions of 60 in. L × 18.1 in. H × 3.8 in. D.
You can install this fireplace by wall mounting it.
Delivered with a multi-function remote control.
Having a design that is light, sleek, and capable of fitting in any room makes this electric fireplace something to keep an eye on.
Coming with crystal glass stones and realistic flames, make you experience a true real-life fireplace.
The feature that highlights this BOSSIN Ultra-Thin Silence Electric Fireplace is that it makes a sound lower than 40 dB, which is amazing.
I was amazed by its 12 flames and LED flame bed color modes which came alongside 5 options for both brightness and the flame speed of the fireplace.
More so, it has not one but two certificates for safety from UL and ETL, respectively.
Great features like 1-8 hour timer control and two operable modes (remote and touch screen) make it convenient for you to have control over the fireplace.
Its replacement policies are a plus point too! Overall, one should not miss buying such a unique electric fireplace!
Key features –
Weighs around 46.7 pounds, with dimensions of 60 in. L × 17.7 in. H × 6.2 in. D.
Comes in black.
You can install it by wall mounting this fireplace or by in-wall recessing.
Has a remote control for convenience.
Uses a 120V outlet with 1500 watts.
BizHomart Electric Fireplace Recessed & Wall Mounted comes with 13! yes,13 flame colors from which you can choose any!
This electric fireplace provides a warm and pleasant modern life vibe due to its ultra-high intensity LED lights which come with a manual panel switch.
This model is known for its safety as the upper front area comprises the heated air vent.
It will stop heating the room automatically when the desired temperature is reached, making it safe as it will not overheat.
You can also use this fireplace with or without heat and handle it rather easily as it comes with a remote control to aid your needs and even has a timer control of 1-9 hours.
It's heater is as quiet as a pin, and one won't have a reason to complain about this model in the context of noise.
One will be in love with it and its multiple flame effects which also help add to the aesthetics of the room!
Conclusion
Electric fireplaces come in all varieties and options!
You can buy any electric fireplace from the above recommendations to enjoy a quieter electric fireplace and its many features as well.
Your decision to have any of them will be supported with advantages and additions in aesthetics alongside the guaranteed value for your money.
FAQs on Quietest Electric Fireplaces
Why does an Electric Fire make Noise?
There are multiple reasons why your electric fireplace may be making noises.
Dirt, dust, loose connections or spare parts, and any object blocking the airflow can cause your fireplace to make noises.
Also, you can feel the clicking noise when you turn on an electric fireplace which is caused due to expansion of heating coils.
How loud is an Electric Fire?
No, generally, electric fireplaces are not loud. 
However, noise comes from the blower of your electric fireplace, and the blower noise differs from model to model or even from brand to brand.
Do all Electric Fires make Sound?
Mostly, electric fireplaces do not make a noise unless the blower is operating.
 
Also, the sounds of fire from the flames of your electric fireplace can be one of the most beneficial and realistic features it provides.