Standard Fireplace Dimensions (Size & Measurement Guide)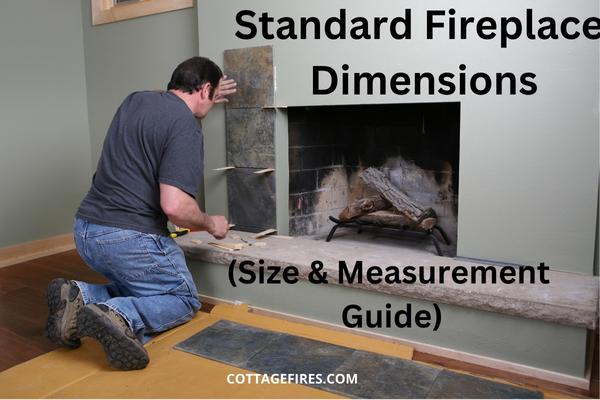 Planning to buy an electric fireplace? Surely, one of the first questions which would have popped into your mind is what are its dimensions? How much it will cost?
How much space do I need to make for it?
Well, worry not! We will become your size and measurement guide and help you find the perfect fireplace through this article by helping you answer your questions.
So let's just dive in!
Standard Fireplace Dimensions
Here are four ways of measurement for standard fireplace dimensions.
Standard Fireplace Width
You can measure the width of your fireplace by measuring the width of its firebox.
Commonly, the firebox's average width ranges between 11 to 19 inches. (or more)
Also, 14 inches of height is the average height for the firebox.
Standard Fireplace Depth
To measure the depth of your fireplace, you need to measure the distance from the back of the firebox to the opening of your Fireplace.
On average, a standard fireplace's depth is about 16 inches deep.
Standard Fireplace Surround Dimensions
Surround is another name used for the combined parts of the mantle and the legs and sometimes even the hearth of your fireplace.
In other words, all the components outside of your fireplace's firebox collectively are known as a fireplace surround.
Most of the fireplaces are about 42 inches wide, while some smaller fireplaces can also have a width of only 36 inches. You can check our picks of best 36 inch electric fireplace inserts.
RW 36 Inch Electric Fireplace
Bigger fireplaces, however, can also have a huge width of 48 inches. This comes in linear electric fireplace category.
Touchstone 50 Inch Linear Electric Fireplace
Now, in terms of height, a mantle should be placed at least 12 inches above the opening of your fireplace. 
Standard Fireplace Opening Size
At last, standard fireplace opening size is the measurement of the hearth, and that too from the top of the opening, while the measurement of the opening width is the distance between the two sides.
The average or the standard fireplace opening size ranges from 24-29 inches in terms of height and 24-34 inches in width.
You are now aware of the dimensions which a standard fireplace requires.
Let's see the dimensions of specific fireplaces' now.
Electric Fireplace Dimensions
Electric fireplaces come with an advantage: they can be installed in place of your conventional wood fireplaces, which are no longer in use.
Moreover, you do not need to install a chimney, a vent, or even a flue when installing an electric fireplace, and they can fit in your living room perfectly.
Now, electric fireplaces commonly have the dimensions mentioned below –
About 31 inches in terms of height,
About 44 inches in terms of width &
About 13 inches in terms of depth.
Type of Fireplace
You first need to decide what kind of Fireplace you would be most pleased with and install that one for maximum satisfaction.
So choose wisely between two main types of fireplaces, i.e., solid fuel and gas.
This decision will pave the way for other factors and how much of an impact they make.
Wood-Burning Fireplace Dimensions
Wood burning fireplaces are the traditional fireplaces.
These days, they are ceasing to be used and are replaced by other fireplaces as they pose the most threats of fire and other hazards.
However, they are regarded as the best fireplaces to heat one's house most effectively.
Their dimensions are –
Around 24-29 inches in terms of height,
Around 24-36 inches in terms of width &
Around 16 inches in terms of depth.
Gas Fireplace Dimensions
Gas fireplaces have proved themselves to be modern alternatives to log fireplaces. Gas fireplaces are known for their effectiveness in heating as they heat the whole house by 75 to 99 % more efficiently than other fireplaces.
Gas fireplaces can go in bedrooms and even in your bathrooms! Shocker right?
Their dimensions are as below –
About 36 inches in terms of height,
About 24-48 inches in terms of width &
About 14-16 inches in terms of depth.
Fireplace Size vs. Room Size: How to Decide?
As you know the size measurements of various fireplaces, you can compare them with your room size to know which one will be most suitable for you.
Compare your room's dimensions (height, width, and length) to get an idea when choosing a fireplace.
Then be aware of the information that is needed in terms of heat output of the fireplace as compared to the installation room.
Finally, take care of the other essentials, such as the type and design of the fireplace and maintenance of a safe distance between the mantle and your fireplace. Lastly, choose whether you want a small, medium, or large electric fireplace, depending on your requirements for heating space.
Puraflame 60 Inch Large Electric Fireplace
Factors Deciding the Size of Fireplace
There are multiple factors that one needs to take into consideration when it comes to deciding the size of the fireplace.
We have explained each one of them in detail below.
Climate
As for the majority, the fireplace is rarely the primary source of heat for them.
But if you rely on your electric fireplace as your main source of heating, then the most important thing that would matter is the size of the room in which your fireplace would be heating.
Remember – When choosing to install a gas fireplace, the size of the room will matter, whereas, for an electric fireplace, it won't.
Interior Design
Consider what the layout of your room is to get the required aesthetic you want.
This is crucial as it would determine whether your decision of mounting your television over your new fireplace goes hand in hand or if it looks odd.
Measurements are to be marked and remembered if you want to achieve your desired aesthetic.
Individually, the choices and aesthetics would differ, but seek a professional to get the best outcome possible.
Conclusion
One needs to keep many measurements in mind when installing a fireplace.
Then comes the part where you need to choose your fireplace type and the question of heating area and factors that help you precisely decide the fireplace's size.