How to Measure for an Electric Fireplace Insert? [Getting the Right Fit]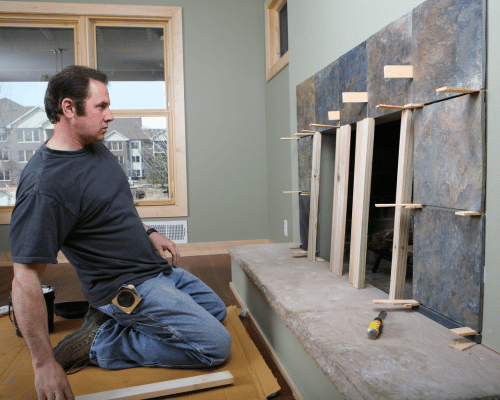 Want to purchase the best electric fireplace insert for your home? Before making such a hefty investment, you should know how to measure for an electric fireplace insert properly.
Recording the right dimensions is crucial, or you will end up buying an electric fireplace insert that won't fit.
The place where you insert a fireplace is called a fireplace opening, firebox, or cavity. Despite their different names, they all refer to the same thing. It all depends on what kind of jargon you use when speaking.
This article guides you in measuring your firebox and mantle.
Let's dive in!
What You Need to Measure for an Electric Fireplace Insert
Before choosing an electric fireplace insert, measure your firebox correctly and record its height, width, and depth. To get an accurate reading of these dimensions, you will have to measure at several different points to get an accurate reading.
You will need the following for measurements:
Measurement (measuring) tape
A notepad/notebook
A pen or a pencil
Guide to Measure for an Electric Fireplace
Taking measurements of a firebox goes beyond simply measuring the width and height at the front of the fireplace opening, called the face. If you only measure the face of a fireplace, there are chances that the back wall of the firebox can be small because fireplaces often have angled walls.
You need accurate measurements if you want your fireplace insert to fit properly. Make your way over to your firebox and grab your tools. Note this measurement in the book.
Measuring the Height
Three different height measurements are required.
To begin, measure the height of your firebox at its opening.
You should then record the height of the firebox at the back.
Last but not least, you will need to measure the lintel, which is the horizontal iron piece above the opening of the firebox. It provides additional support for the fireplace. Lintels aren't always visible. Often, lintels are embedded in fireplace brickwork, but if your lintel is sticking out a bit, add 1/8″ to your measurement to allow for clearance.
You need to record the size of your fireplace opening at its highest and lowest points if it is arched.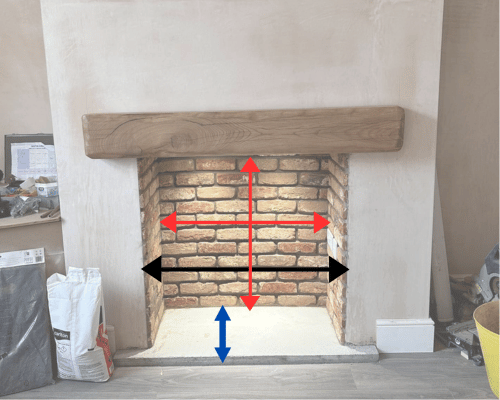 Note – Red arrows are measurement for back walls.
Take note of each result in your notebook, then move on to step two.
Measuring the Width
You will likely have to take at least four measurements, depending on the geometry of your firebox.
Both the top and bottom of the front opening should be measured.
The firebox's back wall width should be measured at the top and bottom.
In the case of an angled firebox, you will need to make additional measurements.
You can verify that your firebox is square by comparing all the measurements here. Square fireboxes should have the same width across the top and bottom. Your firebox will have a series of different numbers if it is angled. When that happens, pay close attention to the smallest numbers.
Make a note of your measurements before moving on to the last step.
Measuring the Depth
Lastly, you'll need to know how deep your firebox is.
From the center of the firebox, measure along the bottom from the front edge to the back wall.
Make a note of the results just as you did before.
Make sure accuracy is maintained.
The following measurements should now be recorded: opening height, rear height, opening width, rear width, and depth along the bottom. You may have recorded more measurements if your fireplace has an arched opening or an angled firebox. These measurements will help you choose perfect electric fireplace insert for your place.
Remember choosing a fireplace insert based on the smallest measurement to ensure the best fit, especially if your fireplace is angled. You might need to force the insert into place or modify the fireplace opening if you did not measure properly.
Also now it's essential to know the standard dimensions of electric fireplace inserts manufactured, to buy the one accordingly.
Measuring the Mantle (ref)
Fireplace mantles are usually decorated frames that surround the fire. You should place it at least 12 inches above the fireplace opening. Keeping the top and bottom lengths in mind when measuring the mantel or space for a mantel is important.
Length:
Houses can have different mantels – some go all the way to the ceiling, while others are slightly larger than the firebox. In this case, you should choose a mantel that is 12 inches longer than the firebox. If your firebox measures 42 inches in length, you should choose a mantel that measures 56 inches.
Height:
Mantels with a face height of 4 – 5 inches would be ideal for a fireplace in a smaller area. Larger rooms would benefit from a mantel face height of 6 inches.
Depth:
The depth of a mantel depends on the amount of traffic around the fireplace, but it is typically 10-12 inches. Your aesthetic preference, the size of the room, and any surrounding furniture should all be considered.
Final Thoughts
Before you go, remember that…
You need to measure your chosen fireplace's opening and mantle while writing down the measurements individually.
Only after verifying the measurements' accuracy should you buy your fireplace insert. It's always better to leave some space for room for error to avoid more severe consequences.