5 Best Budget Electric Fireplaces 2023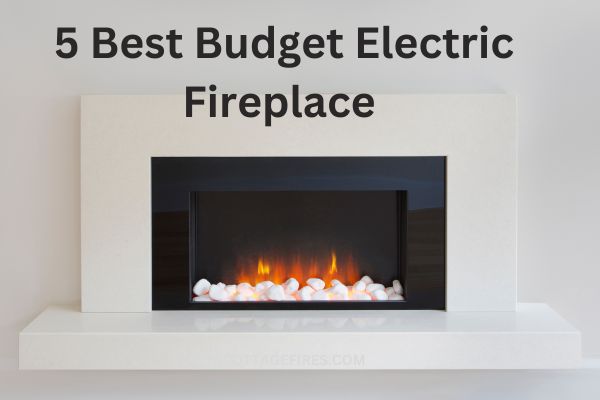 Looking for an electric fireplace and have a tight budget?
Worry not, I have got you the most affordable electric fireplace suggestions for this year. I have been working in the fireplace industry for a decade and have seen almost all the models from various brands.
From my experience, I made a list of 5 Best Budget Electric Fireplaces with all the features an electric fireplace should have.
Hope you find one for yourself and enjoy the warmth this winter with your new electric fireplace.
Key points –
Heats 400 sq. ft of area,
Comes in black color,
Has dimensions of (H x W x D) 18 in. x 15 in. x 9 in.,
Weighs only 13 lbs with a noise level of less than 37 dBA,
User-friendly and easy to move.
This unique model has been designed for every decor while simultaneously providing heat to keep you warm throughout the night. I recommend installing this piece in your living room(s).
Not only does it provide extremely realistic flames, but it also can be operated without heat as well. This enables this fireplace to be used throughout the year. Its heating element is located at the bottom, so no matter what settings you choose, its surface will always remain cool to touch.
With ease of use and overheating protection, this model is the package of all right things at the cheapest price! You will fall in love with this gentle-looking, vintage-design model soon!
So, why wait? start heating your living room(s) with this small yet powerful mode from today!
Key points – 
Provides heat for 500 sq. ft of area,
Comes in white color,
Has dimensions of (H x W x D) 14.7 in. x 9.76 in. x 7.87 in.,
Only weighs 11.5 pounds whilst providing 5100 BTUs heat output,
Includes 1-year warranty.
This model is highlighted by its feature of dancing flames that depict realism to the maximum. It has two heating modes (750W & 1500W) to meet your desired heating requirements.
This model provides overheating protection and ensures total safety. A mixture of modern and classic design, this model is the epitome of adding aesthetics and warmth to your home. I would say this product is the perfect addition to your living room(s), study room, or any decor under $100.
Fast heating, portability, and flexible and adjustable controls help make this an option for many!
Key points –
This fireplace heats a whopping 1000 sq. ft of area,
Available in black color,
Its dimensions are (H x W x D) 23.4 in. x 24 in. x 13.07 in.,
With a weight of around 28.6 pounds, it has a heat output of 5200 BTUs,
Delivered with remote control.
This outstanding piece of beauty is well-stocked in features and impressiveness. It's dancing 3D flames surround the logs and are eye-pleasing. It has 5 adjustable flame colors and 5 flame brightness and speed settings.
With overheating protection and an adjustable thermostat, you have absolutely all the reasons to enjoy this model. Remote control to assist you in controlling the fireplace from your sofa and flames operating with or without heat enables you to use it in all seasons and as you want.
This model also remains cool to touch, ensuring your kid's pets are safe even if they accidentally touch it. It can be installed easily, and you will be in awe once installed!
Key points –
Supplementally heats 400 sq. ft of area,
Comes in black color,
With dimensions of (H x W x D) 18.11in. x 50 in. x 18.11 in.,
Weighs 48.4 pounds with a user-friendly design,
Assists you with a multi-functional remote control.
Thanks to its multiple features, this incredible product has made its name known in the market. This fireplace has been modified to make it more attractive and modern, making it better than it already was. You can control it not only by remote control but also by touch screen.
It makes the perfect case for getting installed in your living room as it comes with 12 flame & 12 LED bed color modes whilst being operable with or without heat! Just superb, no? Alongside the above,, it also has 5 flame speed and brightness settings available.
It comes with two heating modes (750W and 1500W) for your convenience and an ETL safety certification if you are concerned about safety. This piece is an example of raising the standards and is the best electric fireplace under $300.
You are in for a treat and endless happiness and warmth when you choose this fireplace.
Key points –
Perfectly heats 400 sq. ft of area,
Is available in white color,
Has dimensions of (H x W x D) 44.72 in. x 69.3 in. x 12.6 in.,
Weighs about 108 pounds with 4600 BTUs of heat output,
Includes remote control for easy adjustments.
Requiring the least maintenance and providing the most aesthetic look to your room comes easily to this appealing model. It operates almost without noise and adapts ultra-bright LED technology to make its flames project the most realistic.
You can control the settings on this fireplace with a remote control and touchscreen panel. Amazing, right? Its 3-tiered design provides 2 bookcases and 3 shelves on each side! Each shelf has a capacity to hold 15 pounds, keeping your books safe and sound.
However, this piece is a bit heavy, so get your friend to set it up too. Your living room will be lit when this new member enters your home!
You will regret not buying this classy and powerful crazy good of a fireplace!
Till now, you must have figured out which electric fireplace is in your budget and best for your use. Before leaving, I just want to say don't make choices on the basis of bucks, but also check the features and decide which one to install at your home.