Is Electric Fireplace safe for Babies? [Must Read Parents]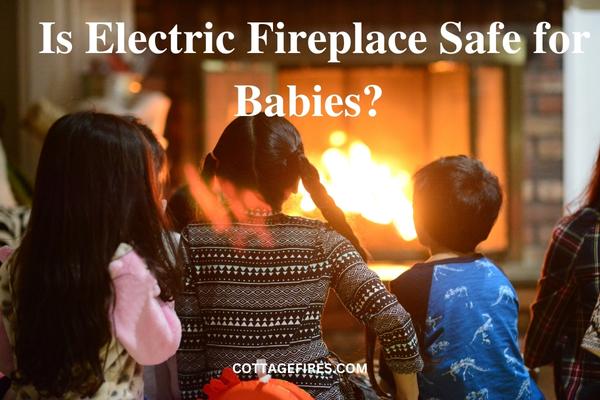 Cold winters are coming, and your wish for a cozy warm temperature is increasing. An Electric Fireplace in the living room is a good choice for such winters.
Parents of a newborn baby are worried about their child's safety in the presence of a fireplace.
But let me tell you, Electric Fireplaces are not hazardous as other traditional fireplaces.
In the following sections, we will see ways to reduce the risk of electric fireplace hazards on babies and discuss the related queries.
Is Electric Fireplace safe for Babies?
Yes, Electric fireplaces are safe for babies. They are entirely safe and create a warm environment that comforts the baby.
The electric fireplace comes in different styles; you can install whichever adds an ambiance to your space.
If you want to go with eco-friendly fireplaces, then these are the ones. They don't emit any kind of harmful gases, and this makes them entirely safe for the baby.
Is it safe for the baby to be around the electric fireplace?
Out of all the kinds of fireplaces, safety is the maximum in the case of electric fireplaces, especially for babies.
The leading cause of this safety is that an electric fireplace produces no real flame.
This keeps your babies and all other things far from danger.
Also, many electric fireplaces are cool to touch, meaning even if your baby crawls, runs, or slips near the electric fireplace, they won't feel a burn even if they touch the electric fireplace.
Mainly, the air that the electric fireplaces release is not as hot as to cause a burn to your baby or babies.
You will never have to worry about your baby around electric fireplaces.
Babyproofing an Electric Fireplace
As we know now that electric fireplaces have the least damage possibilities for children and babies, let's see how you can babyproof your elegant electric fireplace.
These are some of the points to keep in mind –
Keep checking your electric fireplace's temperature to prevent it from getting too hot for your baby or babies.
This one is a little bit hard to do, but keep your cutie-pie(s) at least 3 feet away from the electric fireplace.
Finally, do not let your kids or babies have access to plugs, switches, and remotes. Playing with these things can mess up many settings of your electric fireplace and even cause some troublesome problems.
Yes, you will have to work hard to do all this, but this will make sure your baby and electric fireplace stay safe and sound.
Can Electric Fireplace cause any allergies in Baby?
An electric fireplace can't cause any allergies at all in your baby.
Besides being eco-friendly, they make your room(s) perfectly warm for you and your whole family.
Even if you and your baby, unfortunately, suffer from any health conditions, electric fireplaces are an excellent choice for your family as they do not add to your allergies or health issues.
Conclusion
Of all types of fireplaces, electric fireplaces stand out as the best and safest for babies and your family.
They come in so many designs that make them compatible with your wants while being 100% successful in safety for your baby or babies.