Best Electric Fireplace with Crackling Sound 2023 [Great Ambience]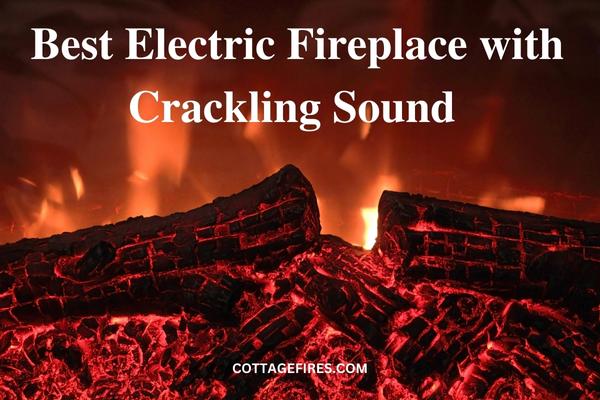 Having electric fireplaces is wonderful, but how would you like it if they made an authentic crackling sound?
I have recommended some of the best electric fireplace with crackling sound for you, below!
Top 4 Electric Fireplace that Crackle
These top 4 electric fireplace haves categories in log set, inserts and stoves which makes crackling sound to add ambience to your house.
Key features –
Heats up to 1000 sq. ft of area,
Comes in black color,
Has dimensions of 8.66 in. D × 20.7 in. W × 12.6 in. H,
Weighs only 15.6 pounds with 1500 watts of power,
Comes with a remote control (batteries included)
This model might be looked over due to its size but it has an infrared quartz log set heater that heats the room in no time.
The crackling sound it makes whilst having a beautiful log set gives you an experience of richness. You feel as if you have a traditional fireplace in your house, it is that lively!
Not only does this model have 5 brightness adjustment options for flame effect but also can be operated with or without heat! Such a great bonus, right?
I know for sure this eye-pleasing beauty will go perfectly in your living room and make you happy and warm!
Key features –
Heats area of 400 sq. ft and more sufficiently,
Available in white color,
With dimensions of 27.8 in. W × 24.96 in. H × 7.9 in. D,
Weighs only 32000 grams with easy installation,
Delivered with remote control. (Batteries included)
This easy-to-install model is packed with features that are more than enough to impress you to buy it.
100% LED lighting that gives off the most realistic flame alongside 5 brightness and flame effect adjustment settings to help you set up as per your mood.
Note – This model also has 13! Yes, 13 mood lighting settings to choose from.
Not only is this model known for the realism its crackling sound provides but also for its otherwise quiet fan!
I think this is a perfect addition to your living room, making your living room even prettier.
Key features –
Adequate to heat 400 sq. ft of area,
Comes in black color,
With dimensions of 35.04 in. W × 27 in. H × 8.8 in. D,
Weighs 47.6 pounds with 5118 BTUs heat output,
Has a multi-function remote control to assist you.
PuraFlame Klaus Electric Fireplace Insert comes with features like 3 flame settings and built-in 100% energy-saving LED technology.
Also, having the option of enjoying this model with or without heat just adds to its many positives.
The crackling sound this fireplace gives off plays right in your ears and you also fall in love with its traditional design.
It is superbly easy to install and doesn't require too much maintenance as well.
I think the realism this electric fireplace brings will be most suitable for your bedroom.
Key features –
Capable of heating 400 sq. ft of area,
Comes in black colour,
Has dimensions of 35 in. W × 22.4 in. H × 8.9 in. D,
Weighs 43.7 pounds with 5100 BTUs heat output,
Packaged with a multi-function remote control.
With 3 variable flame setting options and 100% energy-saving LED technology this model also comes with an option to be operated with or without heat, letting you enjoy this elegant model throughout the year.
Installing this model is a no-brainer and you will fall in love with its unique design which comes with an extremely realistic crackling sound flame effect.
You can also allow this model to sit on your floor directly and it does not require more than a standard 120V outlet.
I think this appealing electric fireplace is the best way to upgrade and warm your bedroom.
FAQs
Do any Electric Fireplaces make a Crackling Sound? 
Yes! Electric fireplaces make a crackling sound and it is considered to be the ultimate realistic experience. 
If you want electric fireplaces that make a crackling sound look for ones that have logs that replicate the noise of a real fire.
Why is my Electric Fireplace making a Clicking Noise? 
The main cause for your electric fireplace to make a clicking noise is the expansion of heating coils. 
However, other reasons such as loose components and worn out parts or clogged components and defective or dirty blower fan, or even a flame rod that has been damaged end up producing loud and unpleasant clicking noise.