Best 36 Inch Electric Fireplace Insert (Updated 2023)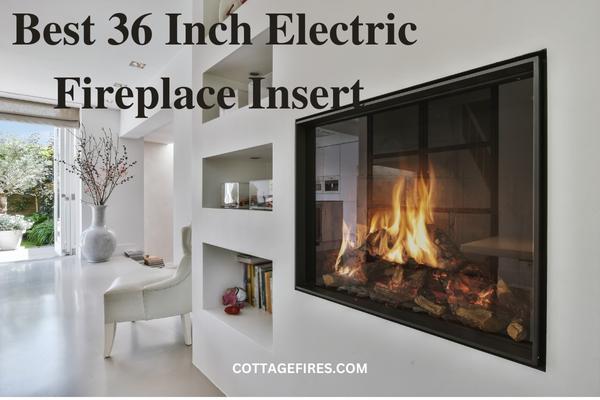 Are you looking for a aesthetic yet strong source of heat? Well, 36 inch electric fireplaces do this job just fine!
But which 36 inch electric fireplace is the one for you?
In this article, I will provide you with a list of some of the best models on the market alongside a buyer's guide, and by the end of the article, you will be on your way to buying yourself a perfectly fitting piece of art.
Having them is like having a powerhouse in your room. Their size does not affect their ability to put off heat; they also impress us with their features.
Let us see some of the best 36-inch electric fireplace inserts available.
Best 36 Inch Electric Fireplace Insert for your Place
After reading this article you would definitely find the best 36 inch electric fireplace for your place. If you find one comment for sure so that others can also get there best one.
Key features –
Heating range of 400 sq. ft of area,
Comes in black,
Weighs around 51.6 pounds with dimensions of 35.6 in. H × 27.3 in. W × 8.84 in. D,
You install this model by using the built-in method,
It assists you with remote control and can be operated in two modes – 750W or 1500W.
With resin-logs that give a life-like experience, 3 colors for the atmosphere light, which helps you have variable brightness as per your comfort, and even a feature of a timer that goes up to 9 hours makes this fireplace notably great!
Having the option of enjoying this model with or even without heat provides aesthetic enough in itself.
You can enjoy this elegant product throughout the year as it easily sits well in any and every room of your house.
Using LED technology and overheating protection make this safe to be placed under your TV set.
This fireplace would go perfectly in your family room as it will completely increase its ambiance and look. Also, the looks that the bricks present on the side of the insert provide please the eye every time!
With all this, you also enjoy a year warranty on your Valuxhome Electric Fireplace, 36 Inches Fireplace Insert.
My friend owns this fireplace and has never been disappointed to date!
Overall, this is the perfect cute addition to your room, and you should only be on your way to buying it today!
Key features –
Sufficiently heats 400 sq. Ft of area,
Comes in black,
Weighs only 36.3 pounds, having dimensions of 36 in. W × 18.1 in. H × 3.9 in. D,
You can install this model by wall-mounting it,
Has both a touchscreen control and remote control.
This R.W.FLAME 36-inch recessed and wall mounted electric fireplace insert is a remodeled version of the previous one and has been upgraded, becoming more practical and appealing.
Not only does it have multiple operating modes, as mentioned above, but it also has 12 flame and LED color options, 5 adjustable flame speed options, and 5 adjustable flame brightness options for you to choose from.
It also has been approved by ETL when it comes to the safety measures providing you total protection from overheating.
When I used this model, I faced no difficulties or issues in any modes and settings.
I would say this is a great, in fact, the best addition to your basement. This model easily increases the aesthetics of your basement and can simply sit beneath your TV set.
With a year's warranty, you won't be left with any chance to complain about this fireplace, and in turn, you will be overjoyed to have this at your place!
Key points –
Heating range of 400 sq. ft,
Weighs 38 pounds with dimensions of 36 in. W x 21.4 in. H x 5.5 in. D,
Black finish,
Can be wall-mounted,
Assists you with remote control.
This fireplace is the key to creating a cosy atmosphere in your living rooms and bedrooms. Its 5 flame settings help you set the flame's intensity as per your mood.
In addition to controlling the settings via remote control, you can also select between using logs or crystals, or a combination of both.
Its installation is not exhausting and its back and sides stay cool to touch when operating it on heat. When you run this product with no heat (just flames) you experience nothing less than joy and will be more than pleased.
Its shut-off timer helps you use the model without worrying. Not only will it surprise you with ultra-realistic flames but also heat up your room in no time.
You are in for a whole lot of happiness and warmth when you secure this model and bless your home.
Key points –
Heats 400 sq. ft,
Weighs 66.4 pounds whilst having dimensions of 27.01 in. W x 36 in. H x 8.98 in. D,
Available in black colour,
Can be installed by wall mounting or used as a freestanding unit,
 Delivered with a multifunctional remote control.
This fireplace is one of the easiest models to install while having the versatility to fit in your office(s), home(s), etc.
With a touch screen on its front panel and a remote control to help adjust the settings you prefer, this model creates the ideal atmosphere whenever you want. The 1-8 hour timer control ability of this model allows you to sleep safely like a baby, with no worries.
Also, having 5 flame speed settings, 5 flame brightness levels and 5 flame speed modes this piece of beauty ensures optimum pleasure and satisfaction when you use it.
ETL-certified product when it comes to safety, this one is an absolute package. With realistic flames dancing throughout the year, this is the perfect gift for yourself and your family.
Key features –
400 sq. ft of heating range,
Weighs 40 pounds, with dimensions of 36 in. W × 19 in. H × 5.1 in. D,
Comes in powder coated finish and black color,
Has to be installed using by wall bracket method,
Includes remote control for assistance and 2 efficient heat settings.
This model instantly adds calmness and aesthetics to your room with its delicate design and great features. Did you know? Not only can you enjoy using this model with a remote control but also by touch screen method! Amazing, right?
You can also utilize its countdown feature to turn off the fireplace for 12 hours automatically. The high-intensity LED lights provide a very realistic touch, and it also has 9 different variations in flame colors which you can choose as per your comfort.
The brightness of the Homedex 36″ Recessed 5 different settings can also adjust Mounted Electric Fireplace Insert, and you can simply plug in this fireplace in a 110V standard outlet to enjoy its warmth.
My friend said that installing this fireplace is quite easy.
I recommend this model if you are looking for the easiest installation with a wide range of places to install this model into. This model can be set up in your bedroom to add a touch of beauty and appeal or even in your basement for a comfortable heated environment.
You won't question yourself later if you buy this unique fireplace, don't wait up!
Key features –
Heats 400 sq. Ft of area,
Weighs 51.6 pounds and has dimensions of 35.6 in. W × 27.5 in. H × 8.84 in. D,
Comes in retro style, putting out a heat output of 5000 BTUs,
Installed using the wall bracket method,
Comes with remote control.
With resin logs that depict realism and embroidery beds with 3 color mood lighting options and 5 different light intensity options, this model stands out to be different from others.
Masarflame 36" Electric Fireplace Insert is the perfect substitute for your old fireplace as this model provides a retro look and appeal to your room.
100% energy saving and efficiency paired with 2 operation modes of 750W and 1500W add to this model's specialties. The highlighting feature of this model is that its flames dance in realism, and you will love to experience it!
Automatic safety protection against overheating and a warranty for a whole year make this model super safe and easy to repair in case any mishap happens.
This is a perfect addition to any of your rooms if you want to fall in love daily with the look and aesthetic this model provides to your room(s). Its beauty, alongside its features, will always draw you in every day.
In totality, you will miss out on so much joy if you miss out on buying this electric fireplace!
Key features –
Heats an area of 400 sq. ft,
Weighs only 33 pounds and has dimensions of 36 in. W × 18 in. H × 3. 85 in. D,
Comes in black,
Wall bracket installation type,
Assists you with both a remote control and touch screen control too!
While installing this elegant fireplace, keep it away from other electrical appliances. With two heat modes of 750W and 1500W, you can enjoy both energy-saving and rapid heating modes.
This model has been ETL certified and holds the certificate from the same, providing overheating safety and protection to you and your whole family.
12 unique color options for coal bed display and 5 options related to adjusting the speed of flames to help you enjoy the warmth as per your comfort and choice.
With a touch screen and remote control, both aiding and assisting you with an additional timer feature, which one can set from an hour to 8 hours, this Vitesse 36-inch Ultra-Thin Electric Fireplace Inserts is a perfect package.
I would say this is a model that would go in your bedroom or rooms that range from small to medium size (sq. ft wise), and you will be super happy with its looks and flames, and your room will look elegant as well.
You also get to avail yourself of the free replacement or parts for a whole year!
This model is convincing even me to buy it! So, why don't you too?
Key features –
Heating range of 400 sq. ft,
Weighs only 31.6 pounds with dimensions 36 in. W × 18.11 in. H × 3.85 in. D,
Comes in black,
Installation was done by wall bracketing method,
Has both remote control and touch screen control.
This model has 12 flame control options, 5 adjustable flame speed modes, and 5 brightness settings to get to your chosen comfort.
Remote control and touch screen control with other features such as sleep mode function and timer control which goes from 1 hour to 8 hours, add to this model's uniqueness.
The feature that sets this BOSSIN 36-inch Ultra-Thin Electric Fireplace Insert apart is it doesn't make noise over 40 dB and has 750W mode and 1500W mode as well to save energy or use your fireplace to its optimized level.
Talking about this fireplace's safety measures, it has been certified by UL and ETL both as safe. You will never face an issue related to this fireplace's safety; that's a guarantee.
If you are looking for a great DIY fireplace insert, this is one to go for! It heats up the room precisely and adds to its ambiance with an attractive design.
You will be in awe of this model once you buy it! I'm sure these features are more than enough to impress us, right?
Buyers Guide for 36 inch Electric Fireplace Insert
First, electric fireplaces are better substitutes for traditional wood and gas fireplaces.
Not only are they ventless, but they also are easy to clean and maintain.
First comes the question of how much your budget is and then deciding what type of electric fireplace you want to go for!
After deciding which type of electric fireplace you are installing, choose a model that heats the required area!
Electric Fireplaces' heat range is between 400 sq. ft to 1000 and above sq. ft of area.
Then you need to see which method you will use to install your electric fireplace. For this, choose the desired location you want to install your fireplace and then make sure you have an outlet or build one.
Choose a model safe for children, pets, and even family elders.
Also, consider if your model has LED lights technology and go for the models that are more energy-saving and efficient simultaneously.
Be aware of each model's benefits and choose the one that is the most beneficial to you!
Choosing a model that easily goes with your decor and interior provides your room with the best aesthetic.
Read the manual or the specs of your chosen model to know its exact features and be aware of its safety measures too!
Finally, after picking your model, choose your desired color and always install it with the help of professionals and enquire about maintenance specifications.
All these things and facts you have now considered will automatically get you the best possible electric fireplace.
Now, just sit back and enjoy your newly installed beautiful electric fireplace.
Conclusion 
Before you go, please read the lines below…
Now you have yourself a list of fireplaces that will keep you satisfied for years to come. Which one suits you the best depends on your preferences, but before you buy a product, go through the buyer's guide I have crafted for you.
With this, you are all set to welcome an aesthetic friend to your family.
Remember to consider all the features and drawbacks of the chosen electric fireplace.