Are Electric Fireplaces Tacky [All Myths Busted]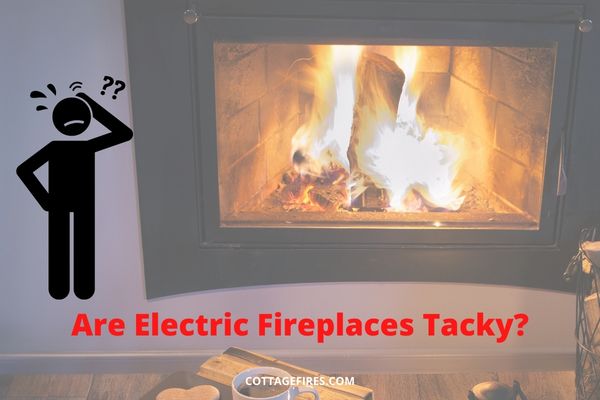 The short answer to this is NO, and the long answer is IT DEPENDS.
Choosing the right one according to your needs and taste can bring a great ambiance to your house.
Let's deep dive into how tacky the electric fireplaces are.
So, are Electric Fireplaces tacky?
People need to be aware that electric fireplaces are manufactured in various styles that are aesthetically pleasing.
Companies have come a long way and started manufacturing fireplaces that look no more tacky in your house.
Many electric fireplaces are a steal deal.
Wall-mounted fireplaces, which are sleek and stylish in design, can bring a whole different look to your house, which even looks real.
Whether an electric fireplace is tacky or not depends on the individual. The market for Electric fireplaces is growing immensely, forcing manufacturers to design stylish-looking fireplaces.
Good fireplaces are not cheap. So don't fall for the cheap electric fireplace.
Buying a good quality electric fireplace will help you to save in the future on wood and maintenance of the chimney.
Some of them look similar to the wood-burning fireplaces and are less messy. These are just the perfect buy.
What makes an electric fireplace look tacky?
When electric fireplaces were released, the flames looked entirely fake to the eyes as their flame display was 2D.
Due to this, the flames would look unnatural and fake to the eyes. It would look more like a television display.
But gone are those days; manufacturers have started making electric fireplaces more stylish and aesthetic. They use a 3D flame display which looks completely real unless you go very close to them.
Some basic settings and an electric fireplace can give you a complete vibe. It includes real display flames, wood and coal additions to display, crackling fire sounds, and much more.
Different types of Electric Fireplaces
Electric Fireplace Mantel – These are usually two-in-one units that include a mantel and fireplace to create the illusion of a real fireplace.
Electric Fireplace Inserts – These are the inserts directly installed into an existing fireplace to give an authentic look if it is covered by the brick chimney.
Wall Mount Electric Fireplace – These are units that can be directly mounted on a wall. These are the most stylish in appearance and less traditional.
Freestanding Electric Fireplace – These fireplaces are technically free-standing and can be placed anywhere you want in the house. They are similar to portable heaters and give a more traditional look.
How to ensure your electric fireplace doesn't look cheap or tacky?
If you want to ensure that your electric fireplace doesn't look tacky or cheap, then you must consider these things before buying one for your house –
Don't go for Cheap ones – Always choose a high-end electric fireplace to help you keep your maintenance low and create an aesthetic ambiance.
Check additional features – Always choose an electric fireplace that provides 3D display flames and sound effects to create a vibe that is needed in your house.
Try Decorating – Draw people's attention by decorating the sidewalls of fireplaces, placing a decorative wreath over the mantle, and adding brickwork wallpapers around the fireplace.
Perfect Look – You can even install a TV unit above the fireplace or make a cupboard or bookshelf to look attractive.
So till now, you must be convinced that electric fireplaces are no tackier. If you buy the right one and don't go for a cheap one, then you will be proud of your decision to install an electric fireplace at home.
FAQs
Is Electric Fireplace still in style?
Yes, the popularity of electric fireplaces is increasing as most people choose them over traditional fireplaces as they are hassle-free and easy to maintain. They are much more cost-effective and provide a great ambiance while warming a room.