5 Best Electric Fireplace with Bookshelves On Each Side (2023)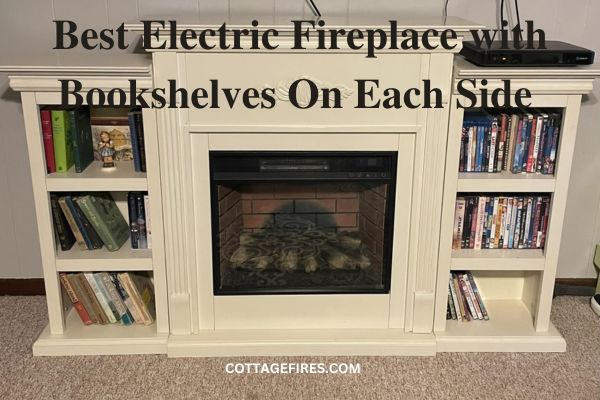 Do you also love books and want your electric fireplace to have shelves on both sides?
So here I'm providing you with the best fireplace with bookshelves on each side buying guide on the internet.
In this article, I have mentioned a list of the 5 best electric fireplaces with bookshelves on either side.
Stick until the very end to know which is best for you!
Let's just dive in!
Best Electric Fireplace with Bookshelves On Each Side
After considering the features of fireplaces and the bookshelves space they provide, I have made a list of the top 5 electric fireplaces with bookshelves on both sides.
The Tangkula 70 Inches Mantel Fireplace is a stylish electric fireplace that offers high quality and performance. Built-in bookshelves and a mantel make it a functional and appealing addition to any room. 
This heater offers convenient and customizable heating options, including adjustable flame brightness, color, remote control, and timer. This 28.5-inch electric fireplace produces 750W and 1500W of heat, making it suitable for various rooms.
With this electric fireplace, you won't have to worry about overheating, and the fireplace won't produce harmful gases or dust, so you can use it confidently.
You can also operate this model with or without the heat function. Either way, you can enjoy its beauty, no?
A 40-inch TV set will be perfect for this model. With a 5100 BTU output, this model has three colors (white, espresso, and black).  
Its dimensions are 11 in. (Depth) x 45 in. (Width) x 70 in. (Height) and weigh around 132 pounds. 
Those looking for a stylish and practical electric fireplace should consider Tangkula's 70-inch mantel fireplace.
PROS –
Heats upto 400 sq. ft of area,
Has 5 brightness levels, 4 colors, and 5 flame speeds to choose from.
Has 6 storage shelves and a tabletop with ample space.
You can operate this model with remote control and touch screen, both.
CONS – 
Many users have complained that they face difficulty assembling and that it takes up much of their time. 
With its stylish and functional design, SEI Furniture's Tennyson Electric Bookcases Fireplace in Ivory brings together the warmth of a fireplace and the convenience of bookshelves. Its classic design will complement a wide range of home decor styles and is well-constructed and sturdy.
You can operate the electric fireplace using the included remote control to create a cozy ambiance. There are three different heat output settings, and the flame effect is realistic and adjustable, making it a stylish addition to any room.
Books, decorative items, and small electronics can be accommodated on its spacious shelves. You can arrange the shelves however you wish, as the shelves are adjustable.
The unit also has a convenient cord management system to hide unsightly wires. The protective glass of this self-regulating electric fireplace is cool to the touch, so it's safe to use.
14 in. (Depth) x 42.25 in. (Width) x 70.25 in. (Height) are the dimensions of this fireplace. Also, this model can be used flexibly as it weighs only around 24.5 pounds while providing a heat output of 5000 BTUs. 
PROS –
Heats 400 sq. ft of area sufficiently.
Has 6 shelves to accommodate your books and stuff.
Uses 1500 watts while having a 120V energy-saving space heater.
Child safety locks are included with the remote control.
CONS –
Most users have complained that they faced difficulty assembling it as the instructions were difficult to interpret.
On the other hand, some users have argued on this model is a bit expensive for its size. 
A beautiful piece of furniture, the Gallatin Simulated Stone Electric Fireplace with Bookcases adds warmth and ambiance to any room. This fireplace has a rustic and natural appearance due to its simulated stone exterior, while the bookcases on either side provide ample storage for books, photos, and another décor.
This model features long-life and energy-efficient LED bulbs, which provide lifelike flames and burning logs with embers
The electric fireplace is easy, and the heat can be adjusted to your comfort level. In addition to being realistic, the flame effect adds to the overall aesthetic of the unit. Operation of the fireplace from a distance is easy with the remote control included.
The dimensions of the model are 18 in. (Depth) x 71.75 in. (Width) x 32 in. (Height) and it gives out 5000 BTUs heat output.
In addition to weighing 134 pounds, you can choose from 2 colors ( black or white) for this product.
PROS – 
Perfectly heats up to 400 sq. ft of area,
Delivered with speed and safety,
Easy installation and is cost-effective due to its LED bulbs.
CONS – 
Also, another considerable issue is that it may take more than one person to move and set up the unit because it is relatively heavy.
An attractive and functional piece of furniture, the SEI Furniture Chantilly Electric Bookcase Fireplace in Autumn Oak is the perfect addition to any home. With ample storage space for books and decorative items and adjustable heat settings, the electric fireplace adds a cozy ambiance to the room.
The autumn oak finish will complement various decor styles with its beautiful, warm tone. Assembling the unit is relatively simple and the construction is sturdy as well. For ease of use, the unit also comes with a remote control.
The dimensions of this model are 14 in. (Depth) × 72.5 in. (Width) × 42.25 in. (Height) while weighing around 85 pounds.
This model also turns itself off when it reaches the set temperature. You can also enjoy this piece of beauty with or without heat; its glass remains cool to touch constantly!
In conclusion, the SEI Furniture Chantilly Electric Bookcases Fireplace serves a dual purpose: adding additional storage and providing a cozy place to relax.
PROS – 
Heating range of 400 sq. ft,
Energy-efficient LED bulbs act as cost savers.
The remote control has a child safety lock in it as well.
5 flames and log settings are available.
CONS –
One potential downside is that the fireplace may not provide enough heat for a large room due to its limited power. Some people may find the sound of the flames and fan bothersome.
The Cambridge Sanoma 72" Electric Multi-Color LED Fireplace will make an impact in any home. Its charred log insert and walnut mantel create a realistic and stylish look.
A multicolor LED flame effect and adjustable heat settings provide a comfortable and convenient heating experience.
With the ability to heat rooms to 210 square feet, this fireplace is perfect for smaller spaces, including built-in storage and a timer. You can enjoy this product with or without heat, as per your comfort.
Additionally, having a remote control to assist you in operating this fireplace from your sofa is a bonus.
This 5115 BTUs heat output model has dimensions of 15 in. (Depth) × 72.3 in. (Width) × 39 in. (Height).
Also, this model weighs only 49.9 pounds, so you can easily shift it from one room to another as required.
Tip – This fireplace is recommended in your living room, bedroom, dining room, or in your home office.
PROS –
Has 2 bookshelves on each side.
Can hold TV sets of up to 60 inches.
CSA has certified it as safe to use.
CONS – 
This appealing model has faced a lot of backlash due to its deliveries. Many users have complained time over time that this unit comes in damaged. (one part or another)
Another common issue faced by some of people is difficulty in assembling the whole piece.