8 Best Freestanding Electric Fireplace 2022 [Reviews & Buying Guide]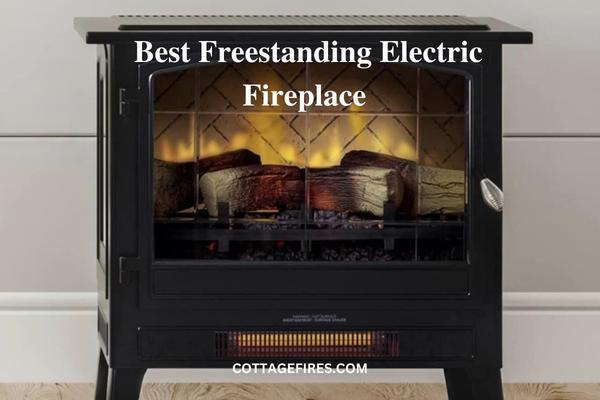 If you are looking for portable electric fireplaces, aka freestanding electric fireplaces, then you are on the right place. After juggling here and there, I'm able to find some best freestanding electric fireplaces for your place.
Freestanding fireplaces are most easy to use, as you just need to plug in and you are ready to use. These are great choice for apartments, homes, and rooms where fireplaces are not installed.
Keep reading, to get your one.
8 Best Freestanding Electric Fireplace
I'm sure that you will find some of the top portable electric fireplaces on this list, and they will make your winters cozy.
Key Features –
It warms areas up to 1000 sq. ft
Its dimensions are (L×W×H) being 13 × 24 × 23.4 in.
Weighs around 28-29 pounds, with a heat output of 5200 BTUs,
Comes in 8 color options,
Has Both touch control and remote controls.
Duraflame DFI-5010-01 Electric Infrared Quartz Fireplace Stove adds to your ambiance and aesthetics. Also, infrared heat technology helps to maintain a healthy air environment.
My experience assembling this freestanding electric fireplace was quite good, as putting its legs on is a very simple task. Don't forget to insert batteries in the remote before plugging it in.
I recommend this Duraflame DFI-5010-01 model as the best for your bedroom(s) or your living room.
It doesn't take up a ton of space, making it easy to add to your bedroom or living room, and it heats the room(s) quickly. Its weight allows you to move it with ease too.
Provides overheating protection assuring safety around kids and pets. The heater becomes more realistic with the 3D flame effect alongside the option of being operated only on flames. (instead of flames and heat)
The zone heating system of this heater also saves your energy bills.
On your way to buy this beauty, correct?
Key Features –
Heats up to 400 sq ft. Of area,
Its dimensions are (L×W×H) 11.18 × 23.58 × 25 inches,
Weighs measly 17 pounds, with a heat output of 5115 BTUs,
Comes in black,
Safe to set up on all flooring types and has 2 replaceable 40W bulbs.
Transporting it from one room to another is rather easy too. This heater reduces your electric bill while heating your room quickly as it has two options.
With settings that are easy to adjust, this model becomes efficient while having overheating protection making this model safe for kids, the elderly, and pets.
This heater is quite sturdy, provides ultra-realistic flames, and even has double glass opening doors to it. Its ability to sit safely on all flooring types is a pivotal point.
The one feature I loved is its flames out even without heat makes this stove stand out.
I have seen this installed in many offices, makes no noise while heating. It's super easy to assemble as you only have to install the legs, which do not test your patience and wear you out while you are at it.
I would recommend the e-flame USA Jasper Freestanding Electric Fireplace Stove Stove for guest rooms, garages, offices, basements, motorhomes, or even small-sized rooms.
Key Features –
Its range of heating is between 400-500 sq ft. Of area.
Comes in black and has two operating modes – 1000W and 1500W.
Has dimensions of (L×W×H) 25 × 15 × 23 inches.
Weighs only 20.95 pounds, making it easy to move and adapt to,
Heat output of 5100 BTUs.
This model's heater flame technology is based on the latest technology, meaning it surpasses the aesthetics of real flames while having overheating protection, making it safe around kids, pets, and elderly people.
The furnace has been provided with knobs around it which help in conveniently assisting adjustments regarding brightness and the heater's thermostat.
This heater can be a perfect addition to small spaces such as your hall, study room, and bedroom. The ambiance and realism it provides are worth it.
Its speed is also surprising, heating 400-500 sq ft. Of area in only 5-7 minutes. The vents below the furnace helps keep the noise generated by the heater between minimum to null.
This model also helps save energy as it can be operated either on 1000W or on 1500W, making it very customizable per your needs as it satisfies your every want.
Key features –
Heats 400 sq. ft of area effectively,
Comes in black, espresso, or natural color,
With dimensions of (L × W × H) 15.9 × 47.2 × 31.8 inches,
Weighs around 94 pounds, using a 120V standard outlet,
Has a total of 6 shelves for storage.
This model is designed to support TV sets of up to 50 inches and holds a total weight of up to 70 lbs.
Did you know? You can also enjoy this Ameriwood Home Chicago Electric Fireplace with or without heat.
I think this goes superbly in living rooms, making room for your TV and even your books and CDs.
Ensure you occasionally clean the dust set on it with a dry or damp cloth. When installing it, ensure you have an extra pair of hands to help you.
Overall, this fireplace stand is worth every penny and will prove more than fruitful for its price.
Key features –
Heating range of 400 sq. ft of area,
Comes in brown, white, or dark wood color,
Has dimensions of (L × W × H) 10.75 × 29.25 × 22.5 inches,
Weighs 46 pounds with a heat output of 4777 BTUs,
Comes with remote control and easy portability.
It has beautiful faux logs that help create an ultra-realistic environment for you to enjoy. This model is known for being cost-effective.
I know this fireplace is ideal for your bedroom, dining room, or even your living room.
This model does not compromise on the quality of the flames it provides; you won't ever feel shy of warmth when you have this beauty around.
Other than assembling it, everything else is a piece of cake in this model! Also, this brand's customer service ensures your concerns are answered asap!
You won't be wrong in buying this appealing electric fireplace!
Key features –
Enough to heat 400 sq. ft of area,
Comes in black and white colors,
Has dimensions of (L × W × H) 4 × 30 × 17 inches,
Weighs only 32 pounds with a heat output of 5120 BTUs,
Delivered with remote control and also has a touchscreen control.
Not only has this model been updated for the better, but it is also filled with impressive features.
It has 12 flame color options and 5 flame brightness options for you to choose from as per your mood and comfort.
This fireplace's unique feature is its breath flame design, which never fails to create the best environment for you!
Also, two adjustable settings in the case of the ember bed and log set make it easy to reach your desired needs. With a timer control of 1-8 hrs alongside the thermostat, you can sleep without worries all night!
I would prefer setting this electric fireplace in living rooms or bedrooms, 100%.
To sum it up, having 2 heating modes and an infrared heater always maintains the warmth in your room(s).
Do not wait until buying this heart-winning electric fireplace!
Key features
Heats up to a magnificent 1000 sq ft. Of area.
Comes in black color,
Its dimensions are (L×W×H) 17×10×20 inches.
Weights only 15.4 pounds,
Heat output of 4777 BTUs, with noise level less than 37 dB.
Even though its heating range is 1000 sq ft, it takes little to no time to heat the big rooms.
This heater of 1400W can turn on the flame effect without turning on the heat.
Also, Overheating protection helps keep kids, pets, and others safe from mishaps alongside its infrared heater that ensures that the heat gets evenly spread throughout the room.
The range of its thermostat plays a huge role in making this fireplace unique, ranging from 68°F to 95°F.
I think this is a great addition to your hall, increasing its ambiance.
Its appearance doesn't make you think it's packing a surprise, right?
This is a heater that is easily one of the best to recommend
Key features –
400 sq. ft of heating range,
Available in black color,
Its dimensions are (L × W × H) 23.6 × 13.3 × 22.6 inches,
Weights only 17.6 pounds with 2 heating modes,
Noise level less than 40 dB.
It is a great buy, especially if you have daily usage for electric fireplaces. Due to its classic design and negligible weight, it's easy to set this up in any room.
An eye-catching feature of this model is that having glasses on 3 sides lets you enjoy the realistic flame at all angles.
Not only can you operate this model without heat, but also it has flame dimmer control, helping you avail brightness adjustments of flames.
The most shocking feature of this electric fireplace is that it heats the area in just a few seconds!
You have nothing to worry about as this fast heating speed also has overheating protection.
I think this is one of the finest additions to your bedrooms or living rooms!
Buying Guide for Freestanding Electric Fireplace
These are a few of the points that one should consider before buying a freestanding electric fireplace –
Cost and design of your model as it is essential to know what this new investment will add to your house.
What are your desired heating range and the voltage level of outlets in your house?
Choose which heater you are looking for, i.e., whether you want a fan-forced heater or an infrared one. Forecasting this helps you enjoy the fireplace in the best manner.
What are the safety concerns in your environment to make sure there are no inflammable objects around the location of the setup?
Be aware of all the features your model is bringing in! Right from whether it has a remote control to does it provide Overheating protection and warranties.
Most important is knowing the size of your electric fireplace and how much maintenance your electric fireplace will require.
Tip – Read the reviews to know which brand and model will suit your house best.
Now you know buying free-standing electric fireplaces is challenging yet fun!
Remember and follow the above points, and you will automatically end up with your ideal freestanding electric fireplace!
Conclusion
Once you know your needs, these recommended electric fireplaces will succeed in making them perfect!
You are set to increase your warmth and comfort in the best manner possible!