How do I get more heat from my electric fireplace?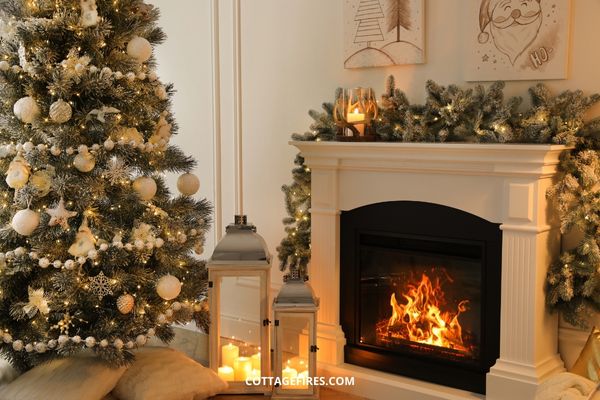 Electric fireplaces are known to heat spaces to 1000 square feet of the area perfectly well.
You wish to get the most heat from your electric fireplace. Of course, you can!
Want to know how?
Go with an infrared heater or a fireplace capable of performing at even 3000 watts.
Also, using a chimney damper, installing glass doors, and periodically maintaining your electric fireplace are some ways to get more heat from your Electric fireplace.
Let's see more details about how you can generate more heat from an electric fireplace.
Does an electric fireplace put out much heat?
Electric fireplaces put out the heat that ranges from enough to more than just enough for the room.
Electric fireplaces at minimum heat off 400 square feet of area, drawing in around 1500 watts. Here, the output of heat gets restrained to 5000 BTUs. (British Thermal Units)
The electric fireplaces, which work at higher watts, i.e., 3000 watts or more, give off much more heat.
Electric fireplaces can give off up to 30000 BTUs which turn out to be too hot, making them unsuitable for most rooms.
Also, venting is not a requirement when you heat rooms via electric fireplaces.
This makes all the heat stay in the room, making electric fireplaces 100% efficient.
In short, electric fireplaces put out much heat depending on what room size it is used for.
Understanding how Electric Fireplaces work
As we already know, electric fireplaces are heaters that operate on a supply of constant electricity and not on the collection of burnable fuels.
Electric fireplaces do not require venting, making them unique and super easy to install compared to gas fireplaces or wood-burning fireplaces.
Electric fireplaces work by following a sequence of steps. They are –
First of all, they draw cool air in.
Then the cool air drawn in with a heating coil gets internally heated.
Finally, the fan releases heated air gently back inside the room.
Although, when you opt for infrared heaters, these steps do not occur.
Infrared heaters consist of using LED bulbs. The coils which surround these bulbs do the work of distributing the heat all over the room by using a reflector that is made of metal. This metal reflector passes warm light rays inside the room.
Infrared heaters heat all the air at once throughout the room, and due to their style, heat and warmth is felt immediately.
Making electric fireplaces work is the easiest. Plugging your electric fireplace in a wall outlet and turning it on is all it takes to get its heating process going.
Electric fireplaces come with easy control and extreme safety measures. This makes electric fireplaces unlikely to cause any mishaps of fire or damage, making them safe around kids and pets.
Electric fireplaces use 3D technology to provide a realistic look to their flames. They allow users to use flames without turning on the heat.
They work without emitting harmful gases, bringing aesthetics and added ambiance to your room.
In short, you do not need much understanding as all types of electric fireplaces (freestanding, wall-mounted, built-in ones, and even mantel ones) work well as their control is in your hands.
Maintaining Electric Fireplaces
Maintaining Electric fireplaces is pretty straightforward.
You start by inspecting your electric fireplace for dust particles or any electrical issues.
Also, consulting the owner's manual provided to you by the manufacturer for proper cleaning instructions is a to-do before you start.
I prefer hiring a professional to maintain your electric fireplace so it always remains new.
Before you start the whole process of inspecting and cleaning to maintain your electric fireplace, you need to disconnect it from the power supply. Otherwise, you can get electrocuted.
Check Electrical Cords –
You could start to maintain your electric fireplace by checking its electrical cords.
At first, you need to remove or detach any previously attached extension cords to your electric fireplace as they are extremely risky and can be the cause of starting fires.
Also, after inspection, if you find any cords highly damaged or broken, you need to replace them as soon as possible to get safety back when using electric fireplaces.
Do not try to join the broken cords by any means. Buy a new one immediately or consult a professional to safely replace and maintain your electric fireplace.
Inside Cleaning –
Cleaning electric fireplaces from the inside is not recommended without hiring a professional, as the inside of an electric fireplace is composed of components that hold it and make it work.
However, cleaning the insides of an electric fireplace can be necessary as dust, and other particles sometimes get filled up in the heater blower or even in the components of flame effects.
So, to restore your electric fireplace so that it starts functioning wonderfully again, you need to get rid of any dust and debris to it.
I prefer using a dry cloth or a vacuum cleaner for cleaning the insides of an electric fireplace. Do not tamper with it by cleaning it with a damp cloth.
Yes! Yes, your electric fireplace is automatically assured to last long if you take care of it like this at least once annually.
Outside Cleaning –
Maintaining the outsides or the exteriors of your electric fireplace is the easiest.
Cleaning the glass of your electric fireplace is the key to making a difference which also increases its aesthetic and appeal, making it more realistic to look at.
When you start cleaning the display of your electric fireplace, avoid using any kind of glass or polishing cleaners as flammable chemicals may be present in them.
Instead, use a softly moist cloth to wipe off the exteriors of your electric fireplace.
After you wipe your electric fireplace this way, let it dry completely to ensure that it does not leave any water spots.
Your exterior is as good as new now as you have wiped all the issues away!
Congratulations, You have successfully maintained your electric fireplace as well as you could!
How do I get more heat from my electric fireplace?
Although Electric fireplaces provide ample heat for rooms ranging from 400 square up to 1000 square feet of area, you can still get more heat from your Electric fireplace.
Yes, you can fulfill your wish, and we will also help you.
Here are the tips we have crafted for you to get more heat from your electric fireplace –
The first and most easy step you need to follow is to maintain your electric fireplace to the best, as this will ensure your electric fireplace always gives off more heat.
Consider installing a damper cap. Damper caps increase the efficiency of electric fireplaces. This smart investment of yours will block air from escaping through the chimney. 
Usage of glass doors is advised, as they are sealed tightly, enhancing your electric fireplace's performance. They not only reduce the amount of heat that can be lost but also do not let any indoor heat escape from the electric fireplace.
Installing a fireplace insert boosts electric fireplaces' efficiency tremendously. You can get the most efficient, double-wall inserts, which come in with built-in fans that blow the heated air into the room perfectly.
Install fans that rotate clockwise.
This move will ensure that more heat gets off from your Electric fireplace.
This also keeps the distribution of the heat generated by your electric fireplace equal due to the fan's clockwise rotation. All the cold air gets pushed up towards the ceiling.
Additionally, you save on your electricity bills by doing this.
A cheap and super-effective move is installing weather strips for your doors.
Several layers of rubber ridges work exceptionally well while costing just a tiny bit more.
This keeps the heat centralized as it reduces the wastage of energy once installed.
Make sure you shut all the doors not occupied with receiving more heat from your electric fireplace.
Tip –   You can specifically use only the burnt dried firewood. Burnt dried firewood, which also goes by the name of seasonal firewood, is used after drying it for 6-12 months or even longer than that. Proper seasonal firewood will give you more heat than regular firewood and provide good durability(burns at a moderate rate).
Conclusion
There are many ways by which your electric fireplace can give off more heat than what it is already giving.
Its working process is a no-brainer, and you need no effort to understand how excellently it works. Its process is pretty straightforward and safe.
Maintaining Electric fireplaces requires the least effort and provides sustainability for years.
You should always try and hire a professional to clean electrical cords and your electric fireplace internally and externally to maintain them.
Damper caps, glass doors, regular maintenance, using fireplace inserts and weather strips, preferring dried burned firewood, installing clockwise rotating fans, etc., are all ways for your electric fireplace to give off more heat.